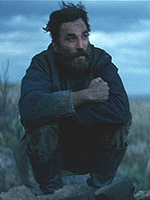 I need to ring up John Campea, editor of The Movie Blog, and ask if this Legendary Characters feature is going to be an on-going thing. Whatever the case, Doug Nagy's extended thoughts on Daniel Plainview add up to one of the more profound assessments of the character I've read at any outlet.
Here's the quote that sold me:
As the movie begins, so it ends. With no opponents left to test him, and not a friend in the world, Plainview is left alone in a hole of his own creation.
Check out the rest here.
And for some humorous context, don't forget to check out Doug's expletive-filled review of "Enchanted." Good for a laugh any day.