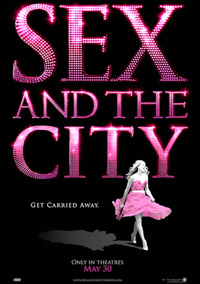 Is there anything to say about this film "Sex and the City" that is driving women into movie houses all across the United States?
According to box office reports this morning, the film made $55.7 million in 3,285 theaters. It generated a reputable $16,968 per screen average according to Nikki Finke. It dominated the Friday box office, but shriveled after that.
Finke notes, "That's exactly what Hollywood pros had been warning about: that 'Sex And The City' would be a one-day, and one-weekend, wonder with no legs." Still, it remains the highest grossing R-rated comedy ever to open, and the fifth highest R-rated film ever to open. But as Finke notes, "The only female-driven movie to come close to SATC in box office was the "Hannah Montana" movie, but there's no comparable R-rated chick flick."
There is something to this movie (just as there was with the HBO television program) that has to do with being true to yourself and true to your friends. No, I'm not about to defend "Sex and the City" as a timeless work of art; it's not. And much to my twenty-three-year-old sister's dismay, it's not the finest film of 2008. Not even close.
But it's not the worst either. For the first time, a studio put an R-rated film aimed wholly at women out for consumption. As I noted on a local radio program here last Friday, "will women show up?" They did according to Finke's numbers. And while "Sex and the City" addressed that unique issue, it also addressed something that we've only seen in cartoon programs: the camaraderie of women. Ann Hornaday, writing in Sunday's Washington Post, expounds on this very topic.
The evolution of the "chick flick," which began as early as the 1930's, seems to have found its zenith with Carrie and Co. After all, staples of the "chick flick" genre: "When Harry Met Sally," "Pretty Woman," "Beaches," and "Steel Magnolias" didn't rally this kind of enthusiasm. But then there's "Thelma and Louise," a film that defined the female as both reckless and in charge – themes clearly present in "Sex in the City."
We won't know whether this film will earn its place on the shelf next to best chick movies of all time. But we can all agree – love it or hate it – that it's off to a roaring start.