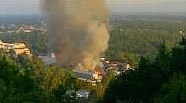 By now you've read the news about portions of the Universal backlot going up in flames following an apparent propane explosion.
This isn't the first time, however. I ran across this at Anne Thompson's blog:
…a number of buildings on the Universal lot were destroyed by fire in 1990. Parts of the Universal tour were burned in a 1967 fire. Earlier this year, a March brush fire threatened the studio but was extinguished before it reached the lot.
Just before I left for London I participated in the studio's VIP Experience Tour for a Los Angeles Magazine article I was working on, and I have to say, it remains one of the best backlots and superlative tours in town. For education on the filmmaking process especially. I really hope this mess is sorted with minimal losses because that acreage collectively represents a gem of the San Fernando Valley.