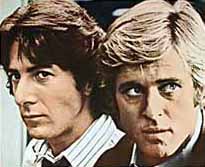 Continuing the conversation on great years for movies (1974 being my pick for the best), I thought I'd dig into a season rich with material that slipped through Oscar's fingers.
The American bicentennial year was loaded with wonderful films — ground-breaking works that stunned both audiences and critics with their mastery. Three of them were nominated for Best Picture, some of the others were not, yet the eventual winner was a low budget love story about a boxer that wanted to prove he wasn't just another bum from the neighborhood.
The true greats of 1976:
"All the President's Men"

Alan J. Pakula's superb adaptation of the Pulitzer Prize-winning book written by Bob Woodward and Carl Bernstein about their investigation of the Watergate burglary was born out of an astonishing script by William Goldman. Making sense of the politics within a dense book, incredibly detailed, Goldman's work had the good sense to make the film a detective-like thriller with well-defined characters.
This could have been a dull, political film made to exploit the happenings in the United States at the time, but Pakula instead made one of the great films about journalism in the days before the Internet and e-mail. Robert Redford bought the rights to the book and produced the film, starring as Woodward, with Dustin Hoffman as Bernstein, both giving exceptional performances, but it was Jason Robards who blew them off the screen with his excellent performance as the crusty, wise, and ultimately loyal Washing Post editor Ben Bradlee.
The film was a surprising box office success, and won best film and director awards from both the National Society of Film Critics and the New York Film Critics Circle, finally garnering eight Academy Award nominations at the end of the season. On Oscar night the film won four, for Robards's supporting turn, Goldman's script and the film's splendid art direction and sound.
"Taxi Driver"

Martin Scorsese's follow-up to "Mean Streets" had won the Cannes Film Festival best film award in the summer and later opened to rave reviews from startled film critics. Most were quite staggered by Robert De Niro's seething performance as a former Vietnam veteran slowly ticking down to an explosion of carnage and violence from which he would walk away a hero. Over the course of Scorsese's brilliant study of urban alienation, the audience watches a man descend into utter madness, disgusted by all that surrounds him in New York City, until he finally lashes back for all the wrong reasons and in all the wrong ways.
De Niro's performance announced his arrival as an actor to watch, while Jodie Foster was remarkable as a 12-year-old hooker "saved" by Bickle's assault on those living off of her. Scorsese's camera prowled New York like a snake seeing the underbelly of humanity, giving us insight as to why Travis slips away from reality. Nominated for four Oscars — NOT Best Director (??!!) — the Academy was not about to honor such a film. The shocking bath of blood in the final scene certainly did not help, though it made the film all the more realistic.
"Network"

Sidney Lumet's study of a media gone mad seemed bizarre and outrageous at the time, but oddly…shall I say possible? In this day and age of realty television the film seems to have predicted the future, and makes clear the dangerous hold TV has on culture and society. There is a moment near the end when a group of executives make the cold-blooded decision to kill off a TV host live on the air, knowing they will get away with it, knowing it will get them a hell of a rating and likely big fat bonuses. It chilled me then and it chills me today.
Though I take issue with Peter Finch winning the Oscar for Best Actor for a clearly supporting performance (and a damned fine one), "Network" did very well on its 10 nominations, winning three of the four acting awards, for Finch, Faye Dunaway for Best Actress for her ambitious programmer and Beatrice Straight in supporting, making the most of her seven minutes of screen time as William Holden's furious wife. Holden did the best work of his career as the director of the news division who watches his show turned into a joke by cutthroat Robert Duvall (superb) and Dunaway, who he ends up having a torrid affair with before learning her life is the tube.
Written with brilliant savagery by Paddy Chayevsky, "Network" became a cautionary tale of the 1970s, and one of the decade's best films.
"The Shootist"

Directed by Don Seigel, this western managed to be ignored in the Best Picture category, containing the last testament of John Wayne on film as a former gunfighter dying of cancr while Wayne himself was being ravaged by the disease. Nostalgic and haunting, the film was the last great western of the 1970s, made before the genre was ruined by "Heaven's Gate" a few years later.
"Marathon Man"

John Scheslinger's thriller was a top-notch effort based on William Goldman's best-selling novel about a Nazi in hiding who comes to New York to cash in on diamonds after his couriers are killed. Dustin Hoffman was tremendous as a history major who comes face-to-face with a walking nightmare of history in Szell, portrayed with quiet menace and seething hatred by Laurence Olivier.
The winner on Oscar night was "Rocky" a feel-good little movie directed by John G. Avildsen, a journeyman director, and written and starring Sylvester Stallone, who became a household name overnight and for a time was hailed as the next Brando. Remember that? I do. Ads that declared, "Brando, Dean, Nicholson, and De Niro…and now Stallone." In fairness, no one knew at the time that Stthe actor was as limited as he was. At the same time, can anyone imagine another actor in the role of Rocky Balboa? He nailed it (and the sequels, of course) in a tiny little film with editing issues (despite winning the Oscar for such) and some questionable directing choices. (We are told over and over that the Philadelphia Spectrum is sold to capacity yet there are rows of emtpy seats behind each fighter, many times their punches clearly do not connect, etc.)
The Academy fell in love with "Rocky," and with 10 nominations (including two for Stallone, as actor and writer), the film took home three Oscars, including Best Film Editing, Best Director and finally, stunning Hollywood, the Best Picture prize. Swept away by what became a pop culture phenemenon, the AMPAS members voted with their hearts and not their heads. Of course it was not the first time, nor would it be the last.
History has been kind to the films of 1976, in particular the three great nominees that lost the award to a lesser film. But the ultimate victor, the tale of a lovable loser who finally gets his shot, maintains its charm nontheless.