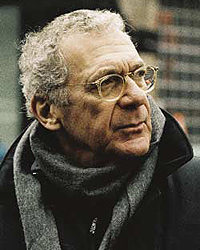 It has now been nearly four days since filmmaker Sydney Pollack passed away. The loss was not crippling for me, however, because of equal parts expectancy and, strangely, indifference.
As fine a filmmaker as Pollack was, he was always something of an afterthought in my cinema-going experience.
I want to be measured here, because the last thing I mean is disrespect. In fact, I'm aiming more toward appreciation of a sort of confident casualness that has been eradicated in this fresh new world of cock-sure filmmaking youths and the veterans who, at times, struggle to keep up, and at others, tap into their own former risk-taking ways to establish a new vision of the "old school."
Pollack was never about that. He seemed to make his way from film to film with grace and a willingness to take stock of the lessons that came. I never knew him — can't offer any first hand accounts of exchange — but if anything about his May 26 death strikes a profound chord with me, it is to know that an ever agreeable constant has been removed from this business, this art form. Sometimes the disconnect of casual dependency can sting as much as the loss of the closest of comrades.
I first became aware of Pollack's work through the images of "Tootsie" I would see flash across the televisions of my youth. But I'm not embarrassed to say I wasn't fully privy to his place in this business until the mid-to-late 1990s, when I was first discovering a passion for film. A Stanley Kubrick die hard like any other (lacking any knowledge as to why I should feel such respect for the filmmaker), I was a high school know-it-all when I saw Pollack's performance in "Eyes Wide Shut."
I remember being struck by the candor that he brought to his work, the steely believability of Victor Ziegler that felt at once secure and unsettling. It brought me back in touch, first, with his immediate work at the time ("The Firm," "Sabrina"). But it also gave me reason to dig back and re-discover this name I saw in the fleeting glimpses of directorial credits throughout my childhood.
I came back to "Tootsie," watched it with the eyes of a slightly more educated soul. I gave "Out of Africa" a chance, a film that never appealed to me either before or after finally viewing it. But I knew that Pollack nevertheless represented an undercurrent of versatility and, better yet, a comfort with as much that seemed somehow unique.
Then I discovered "They Shoot Horses, Don't They?."
I knew the film through the necessary trivia of a late-90s Oscar buff (most nominations without a Best Picture berth). I knew my mother had always been impressed with the Horace McCoy novel, and so I came to read it myself as part of an undergraduate class concerning the Depression era. I fell in love with the text, even humored the insane propositions my professor would make along the way ("He keeps saying 'We traveled down Western,' an unnecessary amount of times — so I wonder, is McCoy telling us this is some neo-western?") And then I saw the film.
It was painfully, yet refreshingly pared down. It was sleek and even slick, while maintaining a certain aroma of unassuming grace. It was Sydney Pollack.
I connected with the man further. I began writing feature scripts that either sucked or sort of worked in varrying degrees. I took to an idea that really excited my slowly-becoming-jaded soul. It was a hybrid of "Network" and "The Firm," as I would say to those who required the themes of my script be packaged easily — a requirement when you have production company queries. But researching both the story and its themes took me further into Pollack's filmography.
I saw "Three Days of the Condor," an altogether pleasing if somewhat rote thriller that I'm fully capable of understanding was a pioneering effort in its time. But even with a certain lack of luster, the film was stealthily appealing. It was impossible to argue with on levels that truly mattered. Again, it was Sydney Pollack.
I of course watched "The Firm" again around this time, taking delight in the way Pollack brought the work of John Grisham off the grocery store book racks and into something at least approaching the profound — only to watch other filmmakers fail at same throughout the decade.
The last film in which I saw Pollack-the-actor perform was of course last year's "Michael Clayton." Despite his swan song being a comedy currently in theaters, I nonetheless think Tony Gilroy's unspectacular yet astute effort seems the perfect send-off for a man who made a career on staying out of a spotlight that seemed more at home when aimed directly at him.
I can't really say why I've steered clear of Pollack's most recent directorial efforts. I've caught "Random Hearts" in fits and starts over the years and have been meaning to catch up with "The Interpreter" for some time. Both, I believe, are resting, long-recorded on my DVR in the States as I write these words. Obviously, I expect them to be there when I get back and the only words I could allow in the way of an excuse for missing these latter-Pollack entries is just that: I expect them to be there.
And so, once again, they are Sydney Pollack.
But Pollack is not going to just be there anymore. He is not going to reside in the Hollywood canon as he did for so long. He is not going to pop up from time to time and offer another confident and assured genre entry. And perhaps — most likely — I should have taken the time to really appreciate that legacy while it was fresh, still moving, still alive and open-ended. I might have been able to assess the loss of the man in a more redeemable fashion. But I think my arms-distance familiarity will serve me in the end, as it already rings strange reverberations of appreciation I can't quite explain four days later.
Nevertheless, I still expect Pollack's filmography will be there, dependable as always. His work will have a lasting impact, less because of his exit and more because of their unique flavor against the grain of showmanship. His films are sparkling examples of betterment through lived-in artistry. They are as rich in their craftsmanship as they are subtle in their profundity. They will never leave us, truly.
They are Sydney Pollack.