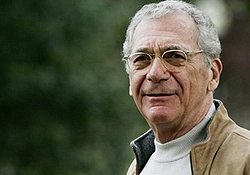 Trained as an actor at Sanford Meisner's famed Neighborhood Playhouse — the stomping grounds of Robert Duvall — Sydney Pollack connected to actors because he was one of them…and a damned fine one at that.
In fact, his comedy "Tootsie" is not only the greatest American comedy ever made, it is also the greatest study of the art and craft of acting I've ever seen. The director, writers and star explored the depths to which an actor will go to get the role right, to find that all-important and essential truth. Without truth in a performance, there is nothing but failure.
There is a moment in the film when Michael Dorsey, the actor who has become actress Dorothy Michaels to find work, is no longer Michael at all. Dorothy has become a living, breathing character in his life. Hoffman's astounding performance is the finest work of his career, a jaw-dropping feat of art that is often overlooked (criminally) when the great film performances of all time are discussed. And of course holding the film together, the glue, the guiding hand, was Mr. Pollack, one of the great directors of the 1970s, 1980s and beyond.
Though he lacked the box office breakthroughs of Francis Ford Coppola or Steven Spielberg, or the nasty edginess of Martin Scorsese, Pollack nonetheless was an artist, one of the few directors able to walk the line between making succesful mainstream films that worked on levels of commerce and artistry.His death at the age of 73 is one of the film world's great losses, though he leaves behind a legacy that will be remembered for years after many of us have gone to that great screening room in the sky.
Pollack's first great film was the searing dance marathon epic, "They Shoot Horses Don't They?," a vicious metaphorical study of society during a 1930s dance marathon. Jane Fonda would make her mark here as a great American actress, and Gig Young would win an Oscar for Best Supporting Actor. The film was nominated for nine Academy Awards including Best Director, but oddly was snubbed for Best Pic, one of Oscar's great injustices.
Pollack's work in the 1970s was an eclectic mix of box office hits such as "The Way We Were" and "Three Days of the Condor," with odd, near-independent work like "Jeremiah Johnson" thrown in. In many cases, the work of the actors made for personal showcases, some of them giving their finest screen performance under the gentle direction of Pollack.
Streisand was nominated for Best Actress in "The Way We Were" and claimed to learn the ropes of directing by watching Pollack at work, making her a stronger actress in the process. More than any other film director, he understood how to use Robert Redford, making the iconic actor a flawed hero in many of the films on which they worked together. Redford's finest screen work came in the above-mentioned neo-western "Jeremiah Johnson," in which the actor dominates the film with a nearly solo performance.
Redford's charactrer in "The Way We Were" ended up being a gifted writer who sells his soul to network television, forever disappointing the love of his life, Katie, leading to one of the great heartbreaker endings of the decade.
"Bobby Deerfield" was a huge miscalculation, a love story merged with tragedy filmed like a foreign language endeavor but with actors lacking any sort of chemsitry together. One of them — All Pacino — was clearly out of his element.
"Tootsie" remains Pollack's masterpiece, winning him the New York Film Critics Circle award for Best Director, though he won Academy Awards as director and producer of "Out of Africa," a sprawling biographical love story featuring a superb Meryl Streep performance, stunning cinematography, a glorious musical score and real sparks between its stars. In accepting his Oscar for Best Director (handed over by former leading lady Streisand) Pollack made clear the impact of Streep on his life and the film, leaving many of us to wonder how and why she lost the Best Actress award for which she had been nominated.
In the years that followed the Oscar, Pollack balanced directing with acting and producing, juggling the three jobs with varying degrees of success. His small role as George, the agent to Michael Dorsey in "Tootsie" ("You were a TOMATO!!") led to other acting jobs for no less than Woody Allen in "Husbands and Wives" and, later, the great Stanley Kubrick in "Eyes Wide Shut."
Most recently Pollack was superb as the head of the legal firm asking George Clooney to do the unspeakable in "Michael Clayton," though he will nontheless be forever remembered as a filmmaker first. While he never made another great film in the range of "Tootsie" and "Out of Africa," he certainly entertained with "The Firm" and "The Interpreter," while his documentary "The Sketches of Frank Gehry" was horribly snubbed by the Academy as the best in the genre that year.
Pollack loved actors, and that love showed in his films through the caliber of performance he elicited. An actor emerged from a Pollack film better than when they had begun, and in some cases, would do the best work of his or her career. He and Redford made seven films together, including Redford's best work, and at least three of Pollack's films were among the top grossing movies of the year.
Though he understood commerce in Hollywood, though he could play that game, he was, first and foremost — and forever — an artist, a meticulous craftsman and one of the best there ever was.