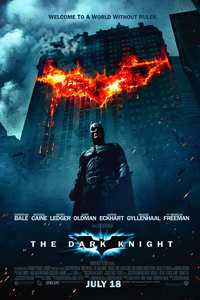 It's a debate that never gets old regarding the music branch of the Academy of Motion Picture Arts and Sciences. When is it going to clean house regarding shady rules that seem to fly in the face of what the organization sets out to do each and every year: honor the best in cinematic achievement?
The foreign film committee had a major shakeup last year, and promises of attention were made, but it's high time the same happened with the musicians. One of the rules seems poised to become a serious talking point later this season, however.
Within Rule 16B of the Academy's eligibility guidelines — launched into infamy last year when the caca hit the fan regarding Jonny Greenwood's "There Will Be Blood" score — you'll find the key language:
Only the principal composer(s) or songwriter(s) responsible for the conception and execution of the work as a whole shall be eligible for an award. This expressly excludes from eligibility…scores assembled from the music of more than one composer.
Specifically, it's Rule 16B-5f. And it will likely affect two promising works of film music composition this year.
I was happy to see recently that Ronni Chasen's publicity firm Chasen & Co. — always a friendly haven for, and diligent promoter of, film composers (I look forward to the array of CDs in my mail box each Oscar season) — have announced a press day coming up on Friday for Hans Zimmer and James Newton Howard. The duo is working together once again this year on the score for Christopher Nolan's "The Dark Knight."
But despite the pomp and circumstance, they don't have a fair play at Oscar.
The occasion of Zimmer and Howard's "Batman Begins" collaboration in 2005 marked "only the second time since 1954 when Bernard Herrmann and Alfred Newman collaborated on 'The Egyptian' that two major composers have worked together on one film," reads the Chasen press release. I raised my fair share of hell about the duo's Oscar exclusion three years ago, as I felt the droning, thematically hair-raising work on "Begins" was among the very best of the season. But it wasn't to be the first time brilliant and award-worthy work would be ignored in the category due to this particular AMPAS rule.
Just last year, Warren Ellis and Nick Cave turned up on many a "best of" list when it came to film scoring. They created a delicate sonic elegy to go along with Andrew Dominik's Victorian western "The Assassination of Jesse James by the Coward Robert Ford," but due to the fine print, they couldn't even get out of the gate.
Which brings me to the second point — that Ellis and Cave will be collaborating yet again this year on the John Hillcoat adaptation of Cormac McCarthy's "The Road." I only recently stumbled onto this information, while corralling some information on the June Oscar chart update, and it stuck out as a disaster of Academy exclusion waiting to happen…again.
Without even seeing the film, I feel in my gut that this will be a match made in post-apocalyptic heaven. I can already hear the sure-to-be stirring soundscape the duo will likely create for a story tailor-made for the cinema. And even if they crank out the very best work of film music composition this year, the AMPAS will not be able to recognize the effort.
No one has seen "The Dark Knight" or "The Road," of course, or heard the respective scores. All I'm saying is, based on track record, it's fair to assume these will be scores that might deserve a play at Oscar notice.
Of course last year's fiasco had everything to do with subjectivity. The Academy decided, in a meeting of which it failed to inform campaign strategists, that Greenwood's original work in "Blood" was diluted by public domain material he wove throughout the soundtrack. Says them. But this one composer per film malarkey makes no sense whatsoever.
The rule is all the more mysterious when one figures in that the teams of George Fenton & Jonas Gwangwa ("Cry Freedom") and David Byrne, Ryuichi Sakamoto & Cong Su ("The Last Emperor") were nominated for the award in 1987. Meanwhile, the vast assemblage spearheaded by Quincy Jones for Steven Spielberg's "The Color Purple" received a notice the year before.
Prior to that, song/musical scores and adaptation scores seemed to allow for multiple nominees. But these three films in the 1980s are the only examples I can find where straight-forward music scores made it into contention despite having more than one credited composer until one goes back to the pairing of Morris Stoloff and George Duning on 1953's "From Here to Eternity." And in the pre-1946 days of 10-plus nominated films, it seems to have been a free-for-all. So who knows what was permitted back then?
I would obviously welcome an explanation as to why, currently, multiple producers, writers, film editors, set decorators, makeup artists, sound mixers, sound editors, visual effects artists and even directors can be recognized within their categories while composers cannot. But there is none to be found and, one can only assume, none on the way. Just the nuts and bolts literature found within a branch's highly questionable rule book.