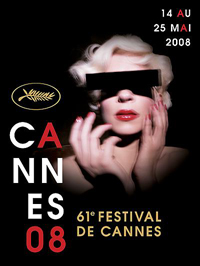 Well, I missed that one badly. As is so often the case, the Cannes jury threw a curveball, handing their top prize to a late-breaking film that had generated very few column inches. Admittedly, I should have paid more attention to "The Class," French auteur Laurent Cantet's school-based docudrama.
I was a huge fan of Cantet's 2001 film "Time Out," an ingeniously constructed character study, and while his 2005 follow-up "Heading South" was a major disappointment, Cantet's name on the competition list should have rung more bells – not least when the very warm reviews started rolling in yesterday. Variety called it "one of the most substantive and purely entertaining movies in competition at Cannes this year."
Congratulations to Cantet then, and to France, scoring their first home victory at Cannes since "Under Satan's Sun" triumphed in 1987. The other awards threw up fewer surprises, with Benicio Del Toro taking Best Actor as I, and many others, predicted. Meanwhile, "Three Monkeys" and the Italian one-two punch of "Gomorra" and "Il Divo" all took home major silverware, if not necessarily in the categories that I anticipated.
I must admit to being shocked that the widely beloved "Waltz With Bashir" went home empty-handed; an omission for which Sean Penn and fellow juror Natalie Portman seemed almost apologetic. No matter: Ari Folman's animated war documentary leaves the festival with a dedicated following, and I'm certainly putting it on my Best Animated Feature shortlist.
The full list of competition winners follows:
Palme d'Or: "The Class"
Grand Jury Prize: "Gomorra"
Jury Prize: "Il Divo"
Best Director: Nuri Bilge Ceylan, "Three Monkeys"
Best Actor: Benicio Del Toro, "Che"
Best Actress: Sandra Corveloni, "Linha de Passe"
Best Screenplay: Luc and Jean-Pierre Dardenne, "Lorna's Silence"
Special Prizes of the 61st Cannes Festival: Catherine Deneuve and Clint Eastwood
Not much to be gained from that list in terms of further awards speculation, except that Benicio Del Toro's place on the projected Best Actor lists for next year appears to be solid, whatever the fate of "Che."
Those sop prizes to Deneuve and Eastwood strike me as rather odd, however. Are they intended as recognition for their respective films in competition, or are they merely lifetime achievement awards? Can it be that nobody can bear to see Clint unacknowledged these days? That said, I didn't expect "Changeling" to pick up anything here; it doesn't seem to be Cannes material, however good it is. (Bear in mind that recent Hollywood films to have competed unsuccessfully at Cannes include "L.A. Confidential," "Mystic River," and of course, "No Country for Old Men.") The mixed critical response to "Changeling," after the initial adulation, does have me uncertain over how far this baby can go.
I feel more confident in predicting that "Gomorra" seems poised to become an international hit. I would put it on my Academy Awards hit-list, but given this year's Best Foreign Language Film debacle, being both popular and critically beloved isn't exactly an advantage in that category these days, is it?