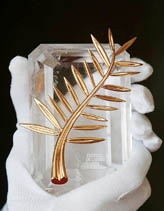 Wells is already speculating and Foote is ready to move on, but let's think it out here. In a festival that has been a bit underwhelming to most, both artistically for the critics and fiscally for the buyers, someone's still gotta win best in show.
Matteo Garrone's "Gomorra" and Nuri Bilge Ceylan's "Three Monkeys" might be the safe guesses, as both were quite well-received. But the Palme has made a habit of being elusive to the films one would expect to claim it.
Clint Eastwood's "Changeling" enjoyed a pleasant love-fest for a time, before the director was roughed up by a colleague and then hit a wall of sorts with The New York Times.
Then there are the fringe possibilities of Steven Soderbergh's "Che" — mixed on receipt, but that hasn't stopped efforts in the past — and "Synecdoche, New York" from Charlie Kaufman, which has the benefit of being the last film out of the gate.
What's it going to be?
If I had to bet, I'd say "Three Monkeys." If I ventured a guess in the midst of rampant unpredictability (which is Cannes in a nutshell), I'd say "Synecdoche, New York."
We'll see how it pans out over the weekend.