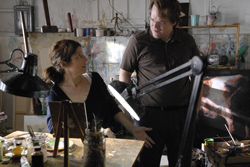 UPDATE (5:38 a.m.): Allan Hunter of Screen International has written the first full review out of the fest I've come across. He raves the effort as follows:
Synecdoche is about one man's lifelong struggle to understand the meaning of his existence. Unadventurous audiences may feel the film is a two hour struggle to understand the meaning of its intentions but as the story appears to move in ever decreasing circles, it remains incredibly engaging and ultimately very moving. Hoffman gives a bravura performance that provides the film with all the focus it requires, capturing everything about Caden that makes him immensely sympathetic and instantly recognizable as a symbol of everyone on planet earth who is…struggling with the challenges of being human.
EARLIER: We should be hearing word in the next few hours on Charlie Kaufman's directorial debut, "Synecdoche, New York," starring Philip Seymour Hoffman and Samantha Morton — and one my most anticipated flicks of the Cannes fest this year.
Here is Jeff Wells' one-off, on his way to the post-screening goings-on:
I've just emerged from the semi-nourishing, semi-tortured Fellini-esque Chinese box mindfuck-dreamscape that is Charlie Kaufman's Synecdoche, New York…and the press conference is just starting. [Ten minutes later] Kaufman has just explained the title's pronunciation: Syn-ECK-duh-kee. At least that's settled.
Mike Jones at Variety, meanwhile, had some fun yesterday with Croisette-goers about said pronunciation.
More to come, I'm sure.