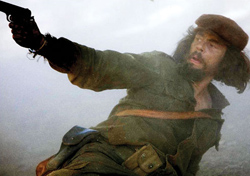 Thankfully SOMEONE took some time to properly respond to Steven Soderbergh's one-two punch of "The Argentine" and "Guerrilla" — "Che," for the Cannes world premiere. I respect as much as anyone the need to get the reaction out there fast, but more than a few critics were a bit hasty in rounding up extended thoughts hours after the 6:30 screening Wednesday night.
After all, the film's first reaction came from Jeffrey Wells, who has paced himself yet and refrained from offering a full-blown review until the dust has at least settled somewhat.
A.O. Scott's piece in The New York Times is part-review, part-Cannes immersion study, and he ties his thoughts to a partial reaction to Charlie Kaufman's "Synecdoche, New York." He doesn't venture solid opinions on either effort, though he does note that the filmmakers have perhaps raised the bar too high with their previous work to judge these films as anything other than a little disappointing.
It is regardless an intriguing think piece presenting his American perspective on the global cinema 7-11 that is Cannes:
This is one of the frustrations of Cannes, for American critics at least. We see lots of fascinating movies — not all good, but very few completely worthless — and then wonder if we, or our readers, will ever see them again. I'm not in the movie business (a mutually beneficial arrangement, believe me), and not inclined to speculate with someone else's money. I do hope, however, that sometime in the near future I can take part in the long and contentious conversation that "Che" deserves, and also see how my own initial ambivalence about the film resolves itself.
(Pull-quotes on "Che" and "Synecdoche, New York" after the jump.)
On "Che," Scott offers:
The expectations surrounding "Che" could hardly have been higher. Mr. Soderbergh, surprise winner of the Palme d'Or in 1989 for "Sex, Lies and Videotape," has emerged since then as one of the most protean and interesting of American filmmakers, exploring an astonishing range of genres and styles with consistent skill, intelligence and audacity. Not every movie has been great, but they have all been different. And not many directors would follow commercial froth like "Oceans Thirteen" with a digitally shot, Spanish-language epic about a Marxist militant.
And getting into Benicio Del Toro's performance:
The halves of "Che" are mirror images…There is a lot, however, that the audience will not learn from this big movie, which has some big problems as well as major virtues. In between the two periods covered in "Che," Guevara was an important player in the Castro government, but his brutal role in turning a revolutionary movement into a dictatorship goes virtually unmentioned. This, along with Benicio Del Toro's soulful and charismatic performance, allows Mr. Soderbergh to preserve the romantic notion of Guevara as a martyr and an iconic figure, an idealistic champion of the poor and oppressed. By now, though, this image seems at best naïve and incomplete, at worst sentimental and dishonest. More to the point, perhaps, it is not very interesting.
His comments seem to recall the frustrations David Poland laid out a few days ago:
I have no idea how I would feel about the four hours of the film as they are right now. But I do know that I am frustrated that I might never get the chance to find out. If Soderbergh cuts the film under Cannes pressure – even though there is no consistent correlation between Cannes response and US release success – this version, or a slightly different 4-hour version, will still likely turn up on DVD some day.
Meanwhile, Scott on "Synecdoche, New York":
But Mr. Kaufman, the wildly inventive screenwriter of "Being John Malkovich" and "Eternal Sunshine of the Spotless Mind," has, in his first film as a director, made those efforts look almost conventional. Like his protagonist, a beleaguered theater director played by Philip Seymour Hoffman, he has created a seamless and complicated alternate reality, unsettling nearly every expectation a moviegoer might have about time, psychology and narrative structure.

But though the ideas that drive "Synecdoche, New York" are difficult and sometimes abstruse, the feelings it explores are clear and accessible. These include the anxiety of artistic creation, the fear of love and the dread of its loss, and the desperate sense that your life is rushing by faster than you can make sense of it. A sad story, yes, but fittingly for a movie bristling with paradoxes and conundrums, also extremely funny.
Related Posts