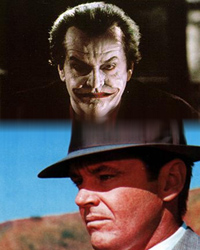 Continuing the conversation from a few days ago on actors that are more than icons, only one name comes to mind: JACK.
For more than 40 years Jack Nicholson has been one of the most dominat acting forces in movies, with an impressive array of performances that both challenge him as an artist and also please audiences from time to time with his wild man portrayals.
In fact, after "Batman," in which he stole the film from under the nose of Michael Keaton, Nicholson was often accused of playing "Nicholson." It's a claim I find absurd considering his performances in subsequent films such as "Hoffa," "A Few Good Men," and "The Crossing Guard," one of his most daring performances ever. Recently the actor has given at least two of his most courageous performances, in "The Pledge" for director Sean Penn, and going totally against type in "About Schmidt," reminding audiences of the great thespian lurking within the body of the movie star they know so well.
His work in the 1970s was astonishing as he moved through the decade with one remarkable milestone after another: "Five Easy Pieces," "Carnal Knowledge," "The King of Marvin Gardens," "The Last Detail," "Chinatown," "The Passenger," "The Missouri Breaks," and his finest screen performance in "One Flew Over the Cuckoo's Nest." He won the Academy Award, and seemingly every other acting honor for his role as R.P. MacMurphy in the Milos Forman film, making his mark as the finest of his generation.
Jumping into the next decade, he proved his daring with a wildly over-the-top portrayal, years ahead of its time performance in "The Shining," which at the time of its release drew heavy laughs for his work. However, like all Stanley Kubrick films, "The Shining" is to be experienced, not merely watched — and I ask you how funny is it really when he is bursting through that door with you on the other side of it?
Proving that he cared only for the good roles, no matter if they were lead or supporting, Nicholson tackled Warren Beatty's "Reds," earning an Oscar nod for Best Supporting Actor. Two years later he won that award for his randy astronaut in "Terms of Endearment," one of his most entertaining performances. In between he was excellent oppsite Jessica Lange in "The Postman Always Rings Twice," one of the more under-valued films of the decade.
Both "Prizzi's Honor" and "Ironweed" challenged Nicholson as an actor and he delivered two of his finest performances, each of them winning him the New York Film Critics Circle award for Best Actor and earning him Oscar nominations as well — both of which he should have won.
"Ironweed," though bleak and depressing, is an extraordinary film, bolstered by two strong turns from Nicholson and Meryl Streep as hobos in New York during the Depression. They had worked together previously, in 1986 in the rather weak and dull "Heartburn" and obviously sought a stronger project for themselves.
The very next year Nicholson was seen in "Broadcast News" as a pompous TV anchor and as the Devil himself in "The Witches of Eastwick," a near comic book-style adaptation of the John Updike novel.
His aforementioned work in the last decade has been strong, "About Schmidt" being nothing short of a revelation. Despite the fact he was all too aware of his audience in Martin Scorsese's "The Departed," he was chilling nonetheless and deserved the Oscar nod that went to Mark Walberg.
And here he now sits at 70 (70!), the most nominated male actor in the history of the Academy, easily the most beloved, and again able to walk the line of movie star and genuine actor. Nicholson sits right alongside Sean Penn, Robert Duvall and Danel Day-Lewis as one of the most purely gifted actors at work in cinema. Those that came through the 70s with him have faltered somewhat, Duvall and Gene Hackman being the exceptions.
Robert De Niro and Al Pacino do laughable work these days while Nicholson continues to be among the most intersting and exciting performers in modern movies.