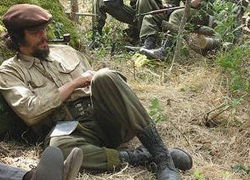 UPDATED (4:15 PM): Not so fast, there.  It seems Anne Thompson has chimed in and sort of doused the flames of passion a bit with a sobering perspective on these two efforts.  The next few hours ought to be interesting as more opinions trickle in.
Here's what Anne had to say:
"A folly." "A mess." "Great." These words came from some of the critics coming out of Steven Soderbergh's four-hour 18 minute Spanish-language Che Wednesday night. At the end there was slight applause; no boos. My own description: noble failure.
EARLIER: Jeff Wells is on the ball with quick (probably too quick) reactions to Steven Soderbergh's "Che" twofer of "The Argentine" and "Guerrilla." If you ask me, this is the center piece of this year's Cannes fest and the one I've been waiting with bated breath to hear about.
On "The Argentine" (is it still called this?) Wells had the following to say:
I know I predicted this based on a reading of Peter Buchman's script, buy the first half of Steven Soderbergh's 268-minute Che Guevara epic is, for me, incandescent — a piece of full-on realism about the making of the Cuban revolution that I found utterly believable and politically vibrant and searing.

It's what I'd hoped for and more. The tale is the tale, and it's told straight and true. Benicio Del Toro's Guevara portrayal is, as expected, a flat-immersion that can't be a "performance" as much as…I don't know, some kind of knock-down ass-kick inhabiting. Being, not "acting."
And on "Guerrilla," what will likely be the less awards-ish of the flicks:
The second half of Che, also known as Guerilla, just got out about a half-hour ago, and equally delighted although it's a different kind of film — tighter, darker (naturally, given the story). But I've been arguing with some colleagues who don't like either film at all, or don't think it's commercial.
Wells mentions Variety's Anne Thompson, Cinematical's Kim Voyner and Glenn Kenny, formerly of Premiere. Each of them attended the screening, so keep an eye on their respective outlets to gauge further reaction.