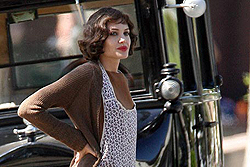 Well, I'm pleased to report that my initial doubts about Clint Eastwood's latest, "Changeling," were obviously unfounded.
His Angelina Jolie-starrer, based on a true story about a child's kidnapping in 1920s Los Angeles, premiered this morning at Cannes, and, judging from the reviews so far, the man's impeccable recent run of form hasn't hit a snag yet. (Incidentally, both Jeff Wells and Screen Daily report that the film has been retitled "The Exchange," a far less intriguing title, in my opinion. However, some trade papers are still going by the original title in the reviews, so I'm sticking with that for now.)
Clearly, however, the film's a stunner by any name. Todd McCarthy's rave for Variety puts it thus:
A thematic companion piece to "Mystic River," but more complex and far-reaching, "Changeling" impressively continues Clint Eastwood's great run of ambitious late-career pictures … Graced by a top-notch performance from Angelina Jolie, the Universal release looks poised to do some serious business upon tentatively scheduled opening late in the year.
McCarthy also puts to rest the rumours that film was a foray into hysterical genre territory, which I admit had me concerned for its awards prospects:
Fears that the story is now destined to veer off into "The Snake Pit" or, given Jolie's presence, "Girl, Interrupted" looney-bin horrors prove largely unfounded, despite a couple of brief electroshock scenes. Rather, this is where the picture really spreads its wings, as ramifications of this tragic but unexceptional case seep through the police department, the legal system, the medical establishment and City Hall in entirely unexpected ways.
The word on the other side of the Atlantic is just as hot. In his Screen Daily review, Mike Goodridge minces no words abouts the film's quality or its prospects:
Beautifully produced and guided by Eastwood's elegant, unostentatious hand, it also boasts a career-best performance by Angelina Jolie who has never been this compelling. Like "Mystic River" in 2003, it should go all the way from the Palais to the Academy Awards next March.
The Hollywood Reporter's Kirk Honeycutt also loves the film, but he is more guarded about its prospects:
The combination of Eastwood and Jolie would ordinarily mean boffo box-office, but "Changeling" is a tricky movie to market as it touches on every parent's greatest fear … Universal's challenge is to make the film's concerns connect with an audience more interested in the kind of police corruption usually found in Scorsese films.
He may yet be right, but nonetheless, it's clear we have our first bona fide contender of the year here. Lately, it has seemed that all Clint needs to do to win the Academy over is not screw up, but this sounds pretty special all the same – deeper and more searching than the initial pitch led me to expect. It seems to be an all-rounder too: McCarthy in particular swoons over the pic's tech credits, and while it's evidently a terrific showcase for Jolie, there are great notices across the board for the supporting players, which include such Academy-friendly names as Amy Ryan and John Malkovich. (Now there's a guy who's overdue for some Oscar love.) With my humble pie duly swallowed, I'm very excited about this one.
It's been a good 24 hours for the Americans at Cannes, meanwhile: James Gray's "Two Lovers" may not have generated the same level of buzz, but it has received some warm reviews nonetheless. The Hollywood Reporter calls the low-key romance "a throwback to the days when love in the movies involved the mind as well as the heart," and even sees some awards potential in it. Not everyone is as keen, with Screen Daily calling it "well-crafted and ably acted but never especially moving," though they join in the general chorus of approval for Joaquin Phoenix's lead turn:
Phoenix is the best thing about Two Lovers. His character Leonard is the kind of ordinary Joe so beloved of golden age American television drama and 1950s movies like the Oscar-winning Marty. Phoenix effectively captures all aspects of the character from his shy, boyish charm to unsettling desperation in his quest for love.
So, as some of the more revered world auteurs in the competition have stalled or stumbled, it seems the Yanks are holding up their end of the bargain so far. Here's hoping this augurs well for Steven Soderbergh ("Che") and Charlie Kaufman (my own personal pony, "Synecdoche, New York.")