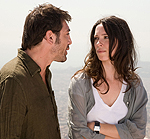 I'm sure I'm not the only one who heaved a sigh of relief after reading some of the reviews of Woody Allen's latest, "Vicky Cristina Barcelona," which recently premiered out of competition at Cannes. The consensus appears to be that the film, while unlikely to enter the canon of his greatest, is an attractive, frothy entertainment.
In his Variety review, Todd McCarthy puts it thus:
"Vicky Cristina Barcelona" is a sexy, funny divertissement that passes as enjoyably as an idle summer's afternoon in the titular Spanish city … pic offers potent romantic fantasy elements for men and women and a cast that should produce the best commercial returns for a Woody Allen film since "Match Point."
McCarthy is particularly enamoured of Penelope Cruz's performance, deeming her to be "dynamite" in the film, and extending the Anna Magnani comparisons that we first started hearing when "Volver" emerged two years ago.
Happily, The Hollywood Reporter's Kirk Honeycutt is equally enthusiastic about the film, and is most impressed by its Spanish stars:
The film belongs to Bardem and Cruz. This is a Spanish version of "Private Lives," a couple that cannot live apart or together, whose love will always burst into fiery combat. Their scenes are some of the funniest Allen has ever put on film, and the culmination of this love/hate tango is not to be missed.
I had a good feeling about this project from the get-go, but then I admit I'm one of those die-hard Allen supporters who maintains that "Melinda and Melinda" is a misunderstood almost-great, and tried his damnedest to find something – anything – to like about "Hollywood Ending." So I'm thrilled to learn that this is likely to be one of those Allen treats I can enjoy guilt-free, without having to construct a defence case for it afterwards.
As for awards prospects, after those notices, I'm going to go ahead and put Cruz on the lower rungs of my ladder of Best Supporting Actress contenders. Woody's films have long been good to women in this category, and while the competition looks crowded this year, a slight but appealing performance from a well-liked star is often the one left standing when the bigger guns misfire. As for Allen himself, any film of his that is generally given at least a B+ by the critics is a contender for a Best Original Screenplay nomination, so I'm going to plunge in and put him on my list. What can I say? The sun's out (at last) in London, one of my favourite auteurs appears to be back on track, and I'm in a generous mood.