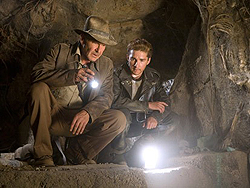 It seems John Harlow of the Times of London has managed a screening of "Indiana Jones and the Kingdom of the Crystal Skull" at some point in the last week, sure to rub a number of self-perceived entitled journalists the wrong way. What's more, he's gone ahead with a full review, a totally positive assessment of the flick.
Here's a look:
The good news for Ford fans is that Indy may be older and greyer, but there's still a spark to his repartee, and he still gets the girl in the end (the girl in question being Marion Ravenwood, played by Karen Allen, who was the love interest in the first Indiana movie, Raiders of the Lost Ark).

Whether Ford's charm will be enough to earn the film the $400m it is estimated to need to recoup Paramount Pictures' investment remains to be seen. However, a preview attended by The Sunday Times last week suggested that the internet gossips who have doubted the film's drawing power may be proved wrong.
And about "it" boy Shia LaBeouf:
Much has been made in internet chatrooms about LaBeouf's potential impact on the film, and fears that he is merely a sop to lure teen viewers. Yet LaBeouf, who made a striking impact against computerised villains in Transformers, matches Ford quip for quip and leather jacket for leather jacket.
Rounding it out:
The real pleasure for series fans may lie not so much in the madcap action, the carnivorous bugs and the familiar perils of quicksand, but the restored romance between Ford and Allen, and the fatherly relationship that develops between Ford and LaBeouf, who is clearly the new pretender to his whip.

Indy treats Mutt with the same sarcastic disdain that his own father, played by Sean Connery, lavished on him during the Last Crusade. You can probably guess how it all works out.