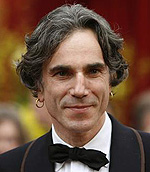 OK, so the dream cast potentially just got dreamier.
Nothing has been confirmed yet, but Variety reports that none other than Daniel Day-Lewis (one almost feels that should be preceded with a Sir, no?) is in talks to play the lead in Rob Marshall's film version of "Nine" — the Broadway show that is in turn based on Fellini's "8½," and is arguably one of the artiest musicals out there.
If he boards, Day-Lewis will be joining a cast already sagging under the weight of its riches: Marion Cotillard, Penelope Cruz, Judi Dench, Nicole Kidman and (wow) Sophia Loren.
It is a fascinating casting prospect for a number of reasons, and not just because we know so little of Day-Lewis' abilities as a song-and-dance man. (And for those unfamiliar with the show, it's a full-on, virtuoso musical role — no getting away here with shuffling and speak-crooning, a la Rex Harrison.) Of course, it wouldn't surprise me to learn that a great voice and great moves are merely two other weapons in the man's well-stocked arsenal of actorly gifts; given how selective Day-Lewis is with his projects, I sense he wouldn't take the part if he wasn't sure he could pull it off.
The casting is even more surprising from an ethnic standpoint. With his Anglo-Irish heritage, Day-Lewis isn't the first person who springs to mind for the role of Guido Contini, the randy Italian playboy auteur first created on screen in Fellini's film by the great Marcello Mastroianni, and later incarnated on stage by such Latin thespians as Raul Julia and Antonio Banderas. (You could also argue Day-Lewis, great as he looks for 51, is a little old for the role: the character is facing a crisis ahead of his fortieth birthday.)
Indeed, he wasn't the first choice: if Day-Lewis takes the role, he will be inheriting it from Javier Bardem (a more obvious choice, and a pretty great one too), who has dropped out citing exhaustion following awards season. (It's the second high-profile dropout for Bardem: he recently bailed on Francis Ford Coppola's "Tetro," only to be replaced by — interestingly — Carmen Maura. Let's hope he recovers quickly – these aren't opportunities an actor should let go too often.)
In the meantime, Bardem's loss could be Day-Lewis' gain. It's not as if the man has to work hard for the Academy's love anyway; given their long-established predilection for all-singing, all-dancing performances, this could be an easy ticket to at least another nomination. With that cast, director Marshall back in his wheelhouse following the creative misfire that was "Memoirs of a Geisha" (it's not a fashionable opinion, but I maintain that "Chicago" was a dazzling feat of direction), and the intriguingly left-field figure of Michael Tolkin ("The Player") doing the writing duties, this could be one of 2009's hottest contenders.