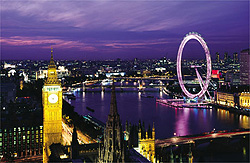 A nice view overrides an overcast (duh) drizzle here in London. I'm glancing out over the Thames as I write this, while a hop across the hallway here provides a look at Parliament, Big Ben, Westminster Abbey and the London Eye. Very pleasant.
Meanwhile, down on the continent, the Cannes International Film Festival is catching its stride. The big news so far, as you'll read below, seems to be that "Blindness" might have come in below expectations. Of course I'll hold out judgment for myself when I see it, but I hope Fernando Meirelles doesn't become a flash in the pan. As in love with "City of God" as I was, I was not impressed by "The Constant Gardener." But his latest has been a must-see for me since the project was announced.
The crew has done a nice job of rounding up info and perspective in this space, but I always take the opportunity this time of year to spotlight Jeff Wells's coverage of the fest, without a doubt the most eye-catching aspect of Hollywood Elsewhere in a given film year. Hopefully he comes across a change of clothes soon.
As for me, I'm sure I'll be in and out with thoughts as the fest pushes forward and as the summer movie season continues to be unveiled. (Indy 4 posters are splattered across the double-deckers out here, of course.) Mike Leigh's latest, "Happy-Go-Lucky," is playing up the street at the Chelsea. I'm sure I'll duck in there to give it a look within the week, as I'm pretty excited for the director's latest. (Guy reviewed the film for us in April.)  Otherwise it's finding the typical balance of work and play — as always.