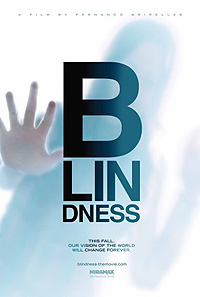 Wow, that seemed to sneak up on us quickly. The 61st annual Cannes Film Festival kicks off today, with Fernando Meirelles' hotly anticipated "Blindness" opening the proceedings tonight.
Pete Hammond at The Envelope has a neat round-up of the Cannes arrivals, with an emphasis on the Oscar prospects of the American films in competition. (Although, as I mentioned in an earlier post, the world cinema lineup this year is equally, if not more, mouthwatering.)
Hammond does take care to point out to the awards-watchers out there that Cannes glory and Oscar victory don't often go hand in hand, however:
This year, particularly with the talent involved, there is lots of speculation about Oscar potential for new Cannes entries from past academy nominees and winners like Fernando Meirelles, Atom Egoyan, Charlie Kaufman, Walter Salles, Steven Soderbergh, Clint Eastwood, Woody Allen and others, although the sad fact remains that since it won, no film other than "Marty" has gone on to win the best picture Oscar after also nabbing the Palme d'Or — and that was in 1955!

Several Palme D'Or victors over the years, like "Friendly Persuasion," "MASH," "The Conversation," "Taxi Driver," "Apocalypse Now," "All That Jazz," "The Piano" and "Pulp Fiction" did go on to best picture nominations.

Roman Polanski's 2002 Cannes winner "The Pianist" probably came closest, taking the academy's director, actor and screenplay awards before what we imagine had to be the narrowest of losses to "Chicago" in the big category.
All true, of course, but still – it's been a while since the Cannes slate featured this many Oscar darlings in the official competition. And they don't come any more Academy-beloved than the venerable Clint Eastwood, whose "Changeling," starring Angelina Jolie, is one of the Cannes titles generating the most buzz from the awards-geek set. I remain less excited about the film than others, but one cannot overestimate the amount of industry goodwill out there towards Eastwood (and indeed Jolie, whom many feel was unfairly snubbed by the Academy for "A Mighty Heart" – though I thought that was one of their smarter calls, personally.)
What's more, Hammond picks up on a good omen for Eastwood in Cannes that I hadn't actually picked up on:
Might the fact that Eastwood's "Mystic River" star Sean Penn is president of this year's jury be a good omen of French things to come for Clint? After all, he did direct Sean to an Oscar.

Is it time to return the favor?
One would think that the Cannes jury would be resistant to that kind of favouritism, but it's happened before: in 2004, jury president Quentin Tarantino was instrumental in handing the Palme d'Or to Michael Moore for "Fahrenheit 9/11." Speaking of Tarantino, he himself was said to benefit from jury president Clint Eastwood's bias towards "Pulp Fiction" in 1994. Rumour has it that Eastwood didn't much care for "Three Colours: Red," the favourite of vice-prez Catherine Deneuve and a significant proportion of the jury, and steered the Palme d'Or into his compatriot's hands. (Those interested in the petty politics of the Cannes jury system would be well advised to read William Goldman's brilliant account in "Hype and Glory"; the late Alexander Walker covers similar territory most entertainingly in a chapter of his book "It's Only a Movie, Ingrid.")
In the meantime, we must sit, watch and wait to see how it all unfolds. I, for one, can't wait to hear what the word is on "Blindness" after tonight's screening. It is highly unusual for a competition title to be the Cannes opener, let alone a film as apparently dark and weighty as Meirelles' film. The slot is normally given to a crowd-pleasing, out-of-competition blockbuster, and I think many believed this would be reserved for "Indiana Jones and the Kingdom of the Crystal Skull."
So the selection of "Blindness" – a really last-minute addition to the programme (so much so I didn't include it in my initial Cannes piece) – is an intriguing move, one that suggests that festival director Gilles Jacob believes the film can live up to expectations. And we're talking sky-high expectations here: the source novel is by Nobel Prize-winner Jose Saramago, the uber-cool Don McKellar is responsible for the adaptation, and Meirelles' track record – "City of God" and "The Constant Gardener," for the rock-dwellers out there – speaks for itself. And that cast: Julianne Moore, Mark Ruffalo Gael Garcia Bernal (for my money, the uncontested actor of his generation) … it seems like the film can't miss. We'll know by tomorrow.