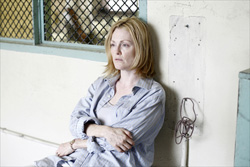 Well, in my last post, I said that "Blindness," with its immaculate credentials, could hardly miss – which of course was issuing an invitation for it to do just that. The latest from red-hot director Fernando Meirelles opened this year's Cannes Film Festival a few hours ago, to frustratingly mixed reviews.
In his review, Kirk Honeycutt of The Hollywood Reporter calls the film both "provocative" and "predictable cinema," and while he does admire Meirelles' craft, he ultimately finds the film emotionally lacking:
This philosophical coolness is what most undermines the emotional response to Meirelles' film. His fictional calculations are all so precise and a tone of deadly seriousness swamps the grim action … Removing a fable from the comfort of the printed page to the photo-reality of film can sometimes lead to its own kind of blindness.
Variety's Justin Chang is similarly lukewarm on the film, bemoaning its "diminished impact and excess of stylish tics," and is less impressed than Honeycutt is by the film's technical qualities:
Meirelles adopts a cooler but, in its own way, no less fussy aesthetic. He often floods the screen in luminous white to mimic the sensation of blindness, at other times bathing his characters in the stuff so they appear to be, in one's words, "swimming in milk." This deliberately artificial effect gives the film a stagy, self-conscious air.
However, it's not all doom and gloom by any means. On the other side of the Atlantic, Peter Bradshaw of The Guardian offers an unqualified rave of the film:
Blindness is a drum-tight drama, with superb, hallucinatory images of urban collapse. It has a real coil of horror at its centre, yet lightened with finely judged touches of gentleness and even humour. It reminded me of George A Romero's Night of the Living Dead, John Wyndham's Day of the Triffids and Peter Shaffer's absurdist stage-play Black Comedy, showing humanity groping in the darkness. This is bold and masterly film-making from Meirelles: popular entertainment with challenging ideas.
So, at this early stage, it's difficult to tell how the chips will fall for "Blindness." Sometimes it takes a few months for a Cannes title to find a critical following, before its US release: "Moulin Rouge," after all, received a pretty rocky response after it opened Cannes in 2001. Even a less successful title like Sofia Coppola's "Marie Antoinette" ultimately won more critical champions than its ruthless drubbing at Cannes suggested it would.
As for the film's Oscar prospects, those US reviews don't bode well for its chances in the top categories, but then "Blindness" never really sounded like a Best Picture contender to me, regardless of its quality. ("Children of Men" was too cool for the Academy, after all, and "Blindness" doesn't sound like a dissimilar prospect.) Cesar Charlone should remain a contender for a Best Cinematography slot, if only because his work is clearly so distinctive.
On the other hand, I would place a question mark over Julianne Moore's Best Actress prospects. While Chang finds kind words for Moore, calling her contribution "characteristically strong", other reviews make little mention of her performance, causing me to wonder whether the film is enough of a showcase for her gifts. The Academy has embraced low-key performances in this category before (Reese Witherspoon and Emma Thompson spring to mind), but that usually happens when the actress benefits from a widely popular film. If those first two reviews are indicative of the general critical response that awaits "Blindness," Moore could get lost in the shuffle.
(In a fair world, by the way, Moore would be a sure-fire contender for her staggering work in the upcoming "Savage Grace," which I caught at last year's London Film Festival, and is a bona fide performance showcase. But there is no way the Academy is giving anything to a film as arctically cold as that one. Trust me.)