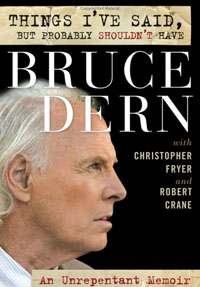 He was nominated for an Oscar just once for his riveting performance in "Coming Home" as a vet who cannot wait to go to Vietnam, and once there cannot wait to get home, horrified by what he sees, betrayed by the dream of what he believed war should be.
Bruce Dern was best known in the 70s as the go-to guy to play crazies. Sadly what most people missed is the fact he was a gifted actor, capable of doing so much more. He was the best part about "The Great Gatsby" as pompous Tom Buchanan and gave an Oscar-worthy performance as the Vietnam vet-turned terrorist in "Black Sunday," still one of the best films ever made about terrorism. Dern was both electrifying and terrifying as Michael J. Lander, who cannot wait to drop a bomb into the Super Bowl.
He dominated "Smile" with a broad comic performance that is among the finest of his career, and is forever remembered as the dude who gunned down John Wayne, shooting him in the back in "The Cowboys."
In the years after "Coming Home" for which he should have won the Academy Award for Best Supporting Actor (sorry Walken) he became a leading man in films such as "Middly Age Crazy" and "Harry Tracy" before fading from view in the late 80s. He emerged on TV recently in "Big Love."
I never tired of watching Dern on the screen. Whether it was in "The King of Marvin Gardens" or "Silent Running" he was a charismatic and interesting actor.
The actor has written a new book entitled "Things I've Said But Probably Shouldn't Have," which is an exceptionally honest read moving through his career discovering how he landed some roles, and how some others slipped away from him. I read the book in two days — devoured every word. Loved it.
One of the great actors of the 70s, Dern ended up being typecast. He never enjoyed the career of a Nicholson or a Hackman, but he was (still is) a superb actor. The book is a worthy read, and hopefully will take people back to his films. It did for me.