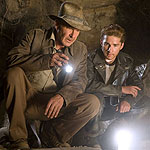 When I posted last week's poll regarding most anticipated summer films, I had an inkling Christopher Nolan's "The Dark Knight" would be a heavy favorite. I didn't, however, expect it to claim nearly 75% of the readership's votes. Impressive, indeed. (And you all know which direction I leaned on that one.) "Indy 4" and "Wall-E" were the only other competitors with numbers worth mentioning.
With that assessment out of the way, and with "Indiana Jones and the Kingdom of the Crystal Skull" set to be the net big thing — both at Cannes and with a May 21 release approaching — I wonder what the general opinion is of this film's actual existence. It's been nearly two decades since Indy swung into theaters (ironically, along with a "Batman" installment and a Bond film still to come, like this year). I've had my reservations since the beginning, but at times, they are overridden by the strong desire fo rthis flick to kick major ass.
So what say you? Is it a disaster waiting to happen or, perhaps, the redemption of George Lucas and his recent desire to tinker with cinematic antiquity? Tell is this week's poll!