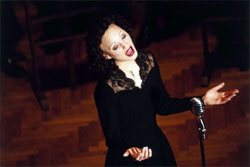 As the piece on actors managed to spark some interest and debate, of course I have to explore the women. Though I am studying just the last 20 years, the Best Actress Oscar has often left some of the greatest performances as mere nominees, or in some cases not even that.
Katherine Hepburn, though nominated for "The African Queen," "Summertime," and "Long Day's Journey into the Night," sat at home while others won; sometimes they were deserving, sometimes they weren't. Gloria Swanson gave possibly the greatest performance by an actress never to win the award with her seething work in "Sunset Boulevard," easily among the most iconic portrayals in film history. Shall I even mention poor Judy Garland? Robbed of her Oscar for "A Star is Born?" Into the 60s we have Anne Bancroft's Mrs. Robinson in "The Graduate" and Jane Fonda's brilliant turn in "They Shoot Horses Don't They?" — each of them Oscar losers.
Since 1988, there has been an equal amount of questionable winners in the lead actress category, beginning with Jodie Foster's win for "The Accused" in a year that saw Mery Streep astound audiences in "A Cry in the Dark," which won the New York Film Critics Circle award. One year later Jessica Tandy won the Oscar for "Driving Miss Daisy," besting critics fave Michelle Pfeiffer, who won honors from the LA and NYC critics, as well as the National Society of Film Critics. Insiders had stated that Tandy was destined to win the Oscar the moment she was cast, and indeed she responded with the finest work of her career.
Kathy Bates is a wonderfully authentic actress who should have won the Academy Award for supporting actress in 1998 for her huffy, tragic campaign guru in "Primary Colors" rather than for her performance as Annie Wilkes in "Misery," which was a fine portrayal. I can't, however, say it was superior to Anjelica Huston's work in "The Grifters." Huston was extraordinary as a fire-breathing mobster chick who gets in deeper than she can deal with.
It's tough to argue Jodie Foster for "The Silence of the Lambs" or Emma Thomson in "Howards End," and there is no doubt Holly Hunter was the right choice for her astonishing work in "The Piano." However, in 1994, Jessica Lange in "Blue Sky?" What the hell was that? I mean Sigourney Weaver gave a career-defining performance the very same year in "Death and the Maiden" but was oddly ignored. Jodie Foster had been nominated for "Nell," which was certainly more deserving than Lange.
I have a hard time disputing Susan Sarandon's trophy for "Dead Man Walking" a year later, other than to say Penn should have received half that Oscar, just as Elisabeth Shue should have received half of Nicolas Cage's Best Actor award for "Leaving Las Vegas." However, all these years later, did Shue impress us because she had never been so raw, so honest before (nor again for that matter)?
Suffice it to say I was horrified that Helen Hunt won for an average performance in "As Good As It Gets" in a year that saw brilliant work from the non-nominated Jennifer Jason Leigh in "Washington Square" or Jodie Foster again in "Contact." Judi Dench was nominated for "Mrs. Brown," but any of the three would have been a better choice than Hunt, the queen of earnest acting. And Gwyneth Paltrow for "Shakespeare in Love" over Cate Blanchett in "Elizabeth?" ????? Geez, Louise…
Probably the greatest performance not to win an Oscar given by a woman in the last 20 years is Ellen Burstyn for her harrowing portrait of an addict in "Requiem for a Dream," bested by Julia Roberts in "Erin Brockovich" for a fine performance but hardly a superior one. And shoot me, I liked Halle Berry in "Monsters Ball" and have no argument with Charlize Theron in "Monster" or Hilary Swank's second Oscar in "Million Dollar Baby."
Reese Witherspoon has an Oscar and Joan Allen does not. Does that not strike you as odd? Witherspoon was ordinary in and won for "Walk the Line," despite being quite extraodrinary in "Election" and not even being nominated!!! Allen gave a stunning performance in "The Upside of Anger" and was snubbed. Ouch! And this year, yes, Marion Cotillard was superb in "La Vie En Rose," but I will never forget Julie Christie in "Away from Her," one of the most haunting performances I have ever seen.
And that wraps the women…as requested.