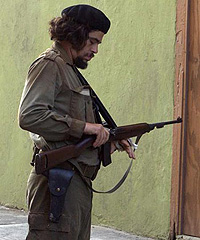 Sean Penn, Benicio Del Toro and Frank Langella seem to be the names bandied about for Oscar consideration this year, which would place them in some impressive company of nominees and winners these last 20 years. Of course, that said, there have also been some bizarre choices for the Best Actor award, which has often left me shaking my head in disgust and wondering what these voters were actually seeing.
Since 1988, there have been 10 winners that perhaps should not have been, the award arguably deserved by another of the nominees, or worse, an actor not nominated! Consider Dustin Hoffman in "Rain Man," a widely acclaimed performance that asked that he not connect with anyone in the film, never make eye contact, rock back and forth and speak in a nasally voice.
Stop what you are doing right now and try what he did in the film, and trust me it is very easy to do. Now do you deserve an Oscar for doing what Hoffman did in that film? The real perfortmance in "Rain Man" was that of Tom Cruise, who we watched evolve over the course of the film, and of course the best performance of that year was Gene Hackman as the tough investigator in "Mississippi Burning." Hackman was nominated, but he stood no chance in the wake of the juggernaut of support for Hoffman, who in fact should have won years before for his miraculous work in "Tootsie!"
Jeremy Irons in "Reversal of Fortune" seemed to me to be the Academy atoning for a "Dead Ringers" snub, for which he won the New York Film Critics Circle award for Best Actor. Though not nominated, Robin Williams might have been a stronger choice in "Awakenings."
Al Pacino's Oscar win for "Scent of a Woman" is simply one of the two worst performances ever to win the award for Best Actor, Roberto Begnini's over-the-top mess in "Life is Beautiful" being the other. Pacino should have won years earlier for his stunning work in "The Godfather Part II," but of course the Academy, in its infinite wisdom, awarded old-timer Art Carney, a television icon, the award for "Harry and Tonto" (?). So years later here we have Pacino, still without an Oscar, go wildly off the rails (which he always does these days), as a blind man no less, and of course, OF COURSE, he is going to win. This despite the fact Denzel Washington gave one of the greatest performances ever put on film in "Malcolm X," which won him the NYFCC award as well.
In between Pacino and Begnini (which I am coming to) we have the great Jack Nicholson winning for "As Good As It Gets," a good performance but hardly better than Robert Duvall's volcanic work in "The Apostle." I love Nicholson, I really do, but he should not have won his third Oscar for this…period. Perhaps in 2002 he was the stronger choice than Adrian Brody, who won for "The Pianist."
Ah, Begnini, that prancing, babbling fool. How does that performance win an Oscar when we have sublime work from Edward Norton in "American History X" and Tom Hanks in "Saving Private Ryan?" What happened? Did the vote split? Considering he also won the Screen Actors Guild award, obviously someone out there believed his incessant mugging was acting?? Not me, not for one second. Or did he simply run a strong campaign and attend every dinner party to which he was invited? (EDITOR'S NOTE: Bing!)
After seeing "Cast Away" I knew one fact: Tom Hanks had just given an astonishing performance, among the best ever, and seemed a shoo-in for his third Oscar. As expected, he won the NYFCC award. He seemed headed towards the podium. But Oscar had another debt to pay: Russell Crowe had given a superb performance in "The Insider" and lost the year before, so why not make amends and give it to him for, get ready for it, "Gladiator?" Now Crowe is a brilliant actor, but that is hardly his best work, not even close, while Hanks poured his soul into his performance holding the screen entirely on his own for more than 45 minutes. "Cast Away" is a case of a strong film being elevated entirely by a brilliant performance.
Obviously feeling blue about robbing Denzel Washington for "Malcolm X," the Academy made it up to him with an Oscar for his work as the corrupt and evil cop in "Training Day." It's a fine performance, but certainly not stronger than Gene Hackman in "The Royal Tenenbaums," who sadly was not even nominated for a performance many consider among the finest of his career.
Adrian Brody's Oscar a year later at least makes some sense to me, because I think there is little doubt that Nicholson and Daniel Day-Lewis split the vote — Day-Lewis for his fire-breathing Bill the Butcher in "Gangs of New York" and Nicholson for his dull, retired widow in "About Schmidt." Brody is very good in "The Pianist" but is it Oscar worthy??
I loved Jamie Foxx in "Ray," but I also thought the un-nominated Paul Giamatti gave the year's best performance in "Sideways," perhaps the best American comedy since "Tootsie!" (To come full circle). And as strong a performance as Philip Seymour Hoffman gave in "Capote," Heath Ledger's anguish broke my heart in "Brokeback Mountain." That final scene in the trailer…my God, does acting get much better?? I have often wondered about both Foxx and Hoffman, whether or not they gave performances or merely superb inpersonations?
So this year will the Academy give it to who really deserves it as they have often done in the past, with Day-Lewis in "There Will Be Blood," Nicolas Cage in "Leaving Las Vegas" and Sean Penn in "Mystic River?" It is infuriating to sit by and watch a weaker performance earn the award, or see an actoir do the best work of their career to lose to a sentimental choice…but are these not the reasons we love the Oscars? After all, if they went to the right films year after year, what would we have to write about?? Man do I love movies.