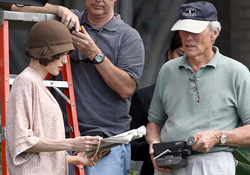 Let me begin with something very personal, something I prefer not to do in this column. Movies have not mattered much this past week, as my wife of 18 years, the love of my life was diagnosed with a malignant brain tumor. This Thursday we journey to Sunnybrook Hospital in Toronto to allow the finest surgeons in the country to go in and take the tumor out, with the hope she does not have to have chemotherapy or radiation. There is a chance I could lose her, and that I couldn't bear. The past few days have been a blur, and yet it is her who urged me back to the computer, with a gentle, "You can't let the movie writing stop because of this…please…write…" God I love that girl. She is at this moment snoozing behind me as I write this.
Later this year we will see the release of "Changeling," the latest from Clint Eastwood who over the last 16 years has become one of the finest directors working in movies. Now seriously, had anyone ever told me in the 70s that one day I would be celebrating the works of Eastwood the director by writing a book about him and his work, I would have laughed in their face at the thought.
Dirty Harry, the man who acted with apes, becoming a world class director? Yet here we are in 2008 and Eastwood has won two Academy Awards for Best Director, twice been honored by the Directors Guild of America, and won countless critics prizes for his work. Revered by actors, beloved by the studios for whom he works, and respected by his colleagues, he has quietly risen to the very peak of the directing world, sitting alongside Steven Spielberg and Martin Scorsese. His films have the lean feel and look of the best work of John Huston and Howard Hawks to whom story was paramount.

My research for my book, "Eastwood: Evolution of a Filmmaker," due in November from Greenwood Publishers, has taught me that he made deals with the studios: one for them (a Dirty Hary sequel or some silly action flick that would make them a fortune), and then in return they had to agree to finance one for him (a personal project such as "Breezy" or "The Outlaw Josey Wales"). While Pauline Kael was mercilessly attacking Eastwood through the 70s and 80s, he was quietly directing and growing with films such as the Capra-esque "Bronco Billy" and "Honky Tonk Man," while still proving himself able to deliver the goods at the box office with "Sudden Impact."
When "Bird" was released in 1988, Eastwood had done something rather extraordinary in making a biography of jazz great Charlie Parker.  Featuring a career-making portrayal by Forest Whitaker, it was a film that beautifully captured the world of jazz and the artists that create this music. Whitaker won the Best Actor prize at Cannes and there was every hope that Eastwood would earn an Oscar nod for his work. When Steven Spielberg read the list of nominees for the Directors Guild Awards he expressed genuine dismay that Eastwood's name was not among the five nominees, and though he won the Golden Globe, Oscar did not come calling…this time.
Four years later Eastwood won not only the Academy Awards for Best Director and Best Picture, but also a slew of critics awards and the prestigious Directors Guild Award for his work on the instant classic "Unforgiven," easily among the finest three westerns ever made. In addition to the accolades for his direction, the Los Angeles Film Critics Association honored him with their Best Actor award (along with Best Director and Best Film), and he received his first Oscar nomination for lead actor.
In the years since "Unforgiven," we have watched Eastwood succeed and fail.  But through it all, he has grown as an artist, evolving before our eyes into this incredible filmmaker. Though Quentin Tarantino may believe filmmaking to be a young man's game, he hasn't yet convinced Sidney Lumet or Clint Eastwwood, it seems.
Dipping back into the filmography, Eastwood's "A Perfect World" remains one of the most under-appreciated films of the 90s, and "The Bridges of Madison County" was a superb film made from a dreary book, bolstered by two stunning performances from Meryl Streep and the director himself. Who would ever have thought Eastwood would go toe to toe with the best actress on the globe?
In the years after the popcorn flick "Space Cowboys," a hugely enjoyable film, Eastwood seems capable of no wrong, with "Mystic River" earning him his second Oscar nomination and winning awards for Sean Penn and Tim Robbins. One year later Eastwood was at the podium a second time, winning Best Director and Best Picture for "Million Dollar Baby," which also took wins for Hilary Swank and Morgan Freeman. Just two years later Eastwood unleashed two exceptional war films on the Oscar season, each of them exploring the battle of Iwo Jima. When the first, "Flags of Our Fathers," stumbled out of the gate despite strong reviews, Warner Bros. rushed "Letters from Iwo Jima" into theatres later in the fall, largely in the hopes that one film would elevate the other. Clearly the stronger effort (spoken entirely in Japanese), "Letters from Iwo Jima" won the director enormous acclaim, and of course, more awards, including the Los Angeles Film Critics Award for Best Film. Nominated for his fourth Academy Award for Best Director, he lost this time to the great Martin Scorsese, but the achievement of the two films remains an astonishing one.
As he approaches 80 years old, Clint Eastwood has the distinction of being one of the most respected directors in film, a man actors want very much to work with and come away believing it to be the experience of their career. Sean Penn said of Eastwood that he is "the least disappointing American icon."
"Changeling" — and perhaps "Gran Torino," should it release by the end of the year — will no doubt be an Oscar contender, just because Eastwood's name is attached.  The name has come to be connected to a higher standard and caliber of film. Can a third Best Director award be in the cards for this great American filmmaker?