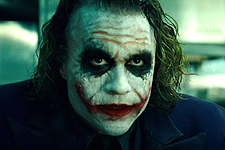 In a post earlier today, Kris linked to the new trailer for "The Dark Knight" starring Christian Bale, Heath Ledger, Michael Caine . . .I could continue. It's an exceptional cast complete with some of the finest actors from different demographics, Maggie Gyllenhaal, especially, as a needed upgrade from Katie Holmes.
This trailer gives us an added (and for me, a needed) glimpse into The Joker, played by the late Heath Ledger. This performance, characterized by Michael Caine as "the most murderous psychopath you've ever seen on screen," is, arguably, the most anticipated of the year.
You expected me to write summer, didn't you, what with all those new and different performances being released: Harrison Ford as Indiana Jones; Will Smith as an invincible man; Brendan Fraser as Rick O'Connell; Seth Rogen as a stoner; Adam Sandler as a cross between Little Nicky and Bobby Boucher . . .
I don't mean to diminish these performances (or those I didn't mention: Ed Norton as The Incredible Hulk and Emile Hirsch in "Speed Racer"), but they simply don't inspire me the way Ledger's performance does. Is that because he's dead? In part, I'm sure. But friends of mine will attest that I suggested to anyone that would listen that Ledger's performance would be memorable. Oscar-worthy was used several times, I recall.
When Mr. Ledger died I sat in my office in disbelief (I received the news at the end of a meeting from a fellow moviegoer who blurted: "oh f*#@!" after reading the news on his Blackberry). I didn't know Mr. Ledger and I was never close to knowing him. I knew his work because I loved movies, and I had a particular affection for his. But it wasn't until I saw him as Ennis Del Mar, in a dark theater in Harvard Square alongside my sister, that I truly understood the breadth of his talents.
This is why casting Mr. Ledger as The Joker was, in my view, a stroke of genius. I'm presupposing that his character will kill, both literally and figuratively. I hope I'm right, and not because I care much about that (plenty of people are predicting the same), but because it will be, like "Giant" for James Dean and "The Thing Called Love" (to a lesser extent, but still a unique performance) for River Phoenix, a fitting final act for an extraordinary talent.
Mr. Dean's final Oscar nominations came after his death, in 1955, for "Rebel Without a Cause" and "Giant." Mr. Phoenix was nominated for an Oscar only once for "Running on Empty" in 1989; he was fifteen. He died on Halloween in 1993; he was twenty-three.
I recognize that the appreciations for Mr. Ledger have been frequent, but this new preview, this glimpse into his final performance, compelled me to comment yet again.
On July 18th I'll have the opportunity to witness a performance from Mr. Ledger for the first time (and, if the rumors are true about "The Imaginarium of Dr. Parnassus," my last). I can't anticipate my reaction, but I know it will be bittersweet. He will do well, and I will be happy. But that happiness will cause me to miss his work in ways that today I cannot understand. And that, I expect, will make me sad.