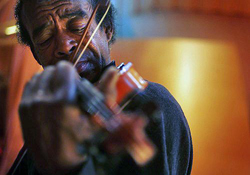 The LA Times' Steve Lopez is enjoying plenty of publicity this month for his latest book release, "The Soloist: A Lost Dream, an Unlikely Friendship and the Redemptive Power of Music." The book was drawn from a series of articles Lopez published three years ago in his "Points West" column in the Times about a Juliard-trained, homeless musician: Nathaniel Ayers.
The story was cleverly recounted with amusing detail by Lopez at a book reading in Pasadena last month, which was when I first discovered that the film adaptation (releasing later this year and starring Jamie Foxx and Robert Downey Jr.) might actually do some good in forwarding the issue of mental disorder in the U.S., a stigmatized subject that deserves more focus.
Lopez and "The Soloist" are featured on newsstands this week as Dana Goodyear writes the story and the issue up as a "Letter from Los Angeles" in the pages of The New Yorker. And I'm happy to see that the film may actually take these issues seriously, rather than setting them aside in favor of what would obviously be a heart-warming story.
Here's a look at the abstract (I wish the full article was online, but it's the May 5 issue for those interested):
Since the nineteen-eighties, L.A. has been known as the country's homeless capital. Skid Row, a fifty-block area covering less than a square mile between the L.A. River and the office towers of downtown, has the city's highest concentration of homeless people. A January, 2007, street count showed that there were just over five thousand homeless people living in the area, thirty-three hundred of them in shelters and nearly eighteen hundred on the street. Many suffer from mental illnesses, drug addiction, or both. Thousands are in recovery.

Joe Wright, the British director of the new Ayers film, decided to take the job on one condition: that the film be made with real people from Skid Row…Open casting calls for extras in the movie were held on San Julian Street, and hundreds of people turned up. Two miles east of the real San Julian Street, a set was built. The Skid Row cast members were asked to play recognizable street types. Some days there were four hundred extras on the set, the vast majority of them from Skid Row.

"The humanness of the story has given people a rooting interest in Nathaniel's life, and to that extent it has destigmatized homelessness," Lopez said. "But Nathaniel pays a heavier price. He has to deal with the attention."