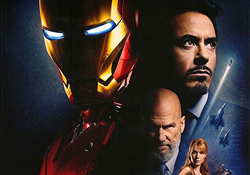 You know, I find myself agreeing with many of the criticisms leveled at "Iron Man" in some quarters this week, rather than adhering to the admittedly overreaching raves pouring out of others.
Jon Favreau and Robert Downey Jr. are working from very thin material here, from a horribly green four-person screenwriting team. Set pieces seem injected without the benefit of a valid thought process that might have elevated the film within the genre, while character details are buried under the desire to go high gloss throughout. There's nothing necessarily wrong with any of this, mind you, though it is a bit difficult to sit through the film without wondering what might have been, the "next level" hovering like a specter above.
Yes, "Iron Man" is a hell of a time at the movies. Yes, the suit is really, really cool. And yes, Downey Jr.'s performance might stay at the top of a lot of personal favorites lists throughout the season. It's like a glove; the actor fires on all cylinders, more a machine of dramatic purpose and performing genius than an actor playing the part. For comic fanatics (to avoid the pejorative "geeks"), hair-raising joy is in many a minor crevice. Terrence Howard will afford the line of the year in some respects — a simple toss to a crowd in the know but smooth as butter and damn near an afterthought all the same. Very cool.
But I don't really find myself wishing to write about "Iron Man" with any measure of depth. I don't feel transfixed and involved in the film's thematics as much as I did by Bryan Singer's commitment to same in "X2." I don't sense a level of visual storytelling dynamics here that fry my receptors like David Goyer and Christopher Nolan afforded in "Batman Begins." And certainly the expressionism of Frank Miller, Tim Burton and even Zack Snyder aren't applicable.
The villains are too hackneyed. The main character's drive is too stilted…manufactured. The finale is impotent and the origin aspect of the tale, however expected, is too bloated. But it all works. And I'm there for the sequels. I cleaned the popcorn carton out and took down a tub of Sprite, never blinked. Is it fair to pass a movie on such auspices? Probably not. But for the season opener of a summer that looks to be a dedicated fun-fest, I got what I wanted.
Sometimes we anticipate more than those behind the camera are willing to accomplish. It gets me every time. But every once in a while, I find myself able to let it wash over me because, hey…it's a guy in a fucking weapon-enhanced suit of metal flying through the skies and holding onto the bottom of fighter jets.
(I may very well write more about "Iron Man" in due time.  Downey Jr's pitch-perfect chemistry with his co-stars, Jeff Bridges' rather embarrassing moments late in the film, the idea that faceless Middle Eastern villains are "okay" once again, etc.  For now, this is all that really strikes me as worth the copy.)