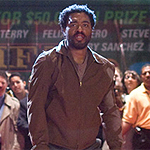 As both Kris and I have suggested, this is likely to be the year of Robert Downey Jr. I'm pleased to see that he's getting rave reviews for his work in "Iron Man," and I'm glad to know that it isn't a mess the way many comic book adaptations become ("Hulk" and "Batman & Robin," certainly).
But since we're on the topic of new actors (or, in Mr. Downey's case, veteran actors re-made) taking the scene, I wanted to draw attention to Chiwetel Ejiofor, who stars in the lead role of David Mamet's new film "Redbelt."
Ejiofor easily makes my list of the finest actors working today. Recently, he starred in Alfonso Cuaron's marvelous "Children of Men," alongside Denzel Washington in Ridley Scott's "American Gangster" and opposite Don Cheadle in "Talk to Me." I thought his role in HBO's under-appreciated drama "Tsunami: The Aftermath" was extraordinary.
In "Redbelt," Ejiofor plays the role of Mike Terry, a Brazilian Jiu Jitsu instructor who runs a struggling academy in Los Angeles. Michael Rechtshaffen of Hollywood Reporter describes Ejiofor as the "heart and soul of the film." Today, Ejiofor appeared on NPR's "Fresh Air" with Terry Gross.
There's a very good chance that Ejiofor will be absent from the awards circuit in 2008. While "Redbelt" may not be awards caliber (Mamet films, interestingly, are often absent from the Oscar race), Mr. Ejiofor is an Oscar-caliber actor. He was exceptional, especially, in "Dirty Pretty Things" and "Kinky Boots." He may find the platform in 2009, when Danny Glover's film "Toussaint" about the 18th century slave rebellion that sparked the Haitian Revolution, arrives in theaters. Don Cheadle and Angela Bassett also star.
Time will tell, I suppose. But like Michael Shannon (he creeped onto Kris's Oscar charts this week for his role in Sam Mendes's film "Revolutionary Road," along with Leonardo DiCaprio, Kate Winslet and Kathy Bates), Mark Ruffalo and, until his untimely death, Heath Ledger, Ejiofor's part of an elite class of male actors on the rise.
I'll look forward to watching his work for years to come.