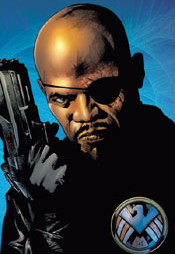 At Monday's screening of "Iron Man," I was sad to see that Samuel L. Jackson's much-anticipated cameo as S.H.I.E.L.D. leader Nick Fury wasn't in the cut. Though director Jon Favreau has suggested the scene might surface in the DVD release.
Well New York Mag's Vulture blog points us today to a Comic Book Resources story revealing that general audiences will get to see the Easter egg scene that was withheld from critics' screenings on the grounds of Top Secrecy, so to speak:
One thing missing from the film was the much-touted end of movie scene with Samuel Jackson as Nick Fury. I understand from British Film classification sources that the scene is in the print that they've approved for general release, but not in premiere or preview screenings, so as not to spoil the um.. surprise… bugger. Anyway, he's recruiting for a group called The Avengers.
And Moviehole confirms the notion. With the sentiments of two fellow journos. Fair enough. I was gonna pay to see it again anyway. Now I have even more incentive!
And come on, "The Avengers initiative?" A shared scene with Tony Stark in "The Incredible Hulk?" The road to an "Avengers" moving being paved with gold? My geek meter is on overload.
God bless Marvel Studios.
UPDATED: It looks like John over at The Movie Blog has the footage in question up, from a YouTube posting.