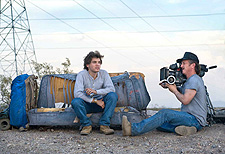 Of course not. Quite often the Academy gets behind an actor for the simple reason they pulled of the film without screwing too much up.
How else can one explain Mel Gibson's win for "Braveheart" but failure to be nominated for his masterpiece "The Passion of the Christ" and "Apocalypto," easily two of the finest directed films of the last ten years? Somewhere along the road, the Academy fell in love with actors who try their hand at directing (unless your name is Sean Penn or Barbara Streisand) and began giving away Oscars, quite often over more deserving directors.
Poor Martin Scorsese has watched actors win the Best Director prize over his work three times. In 1980, of course, Robert Redford won for his drama "Ordinary People" over Scorsese's searing "Raging Bull," while ten years later Kevin Costner won the Oscar for "Dances with Wolves," besting Scorsese for "Goodfellas." But hey — this is the Academy…right? Clint Eastwood also bested Scorsese's "The Aviator" in 2004 with a win for "Million Dollar Baby."
One year after Redford won his Academy Award for Best Director, Warren Beatty took home the award, much deserved for his criminally under-appreciated epic "Reds." But he would watch in shock as "Chariots of Fire" ran to the Best Picture award over his film. The following year, a minor British actor, Richard Attenborough directed "Gandhi," which the Academy fell in love with, honoring the achievements of the film's subject rather than the effort itself, which even at the time seemed old-fashioned and rather ordinary. Attenborough himself, on the way to accept the Directors Guild Award for the film, stopped to chat with Steven Spielberg to make clear what everyone in the room seemed to know: that Spielberg should have won the award for "E.T.: The Extra-Terrestrial!"
The Costner win in 1990 for "Dances with Wolves" came for a 3-hour western, with one third of the dialogue in Native American, giving birth again (however short-lived) to the western genre, and though I disagree with the win, I understand it more than I do Attenborough's or Redford's. Strangely enough, Costner would make a better western in 2003 with Robert Duvall entitled "Open Range" that did very well with critics and audiences, though the Academy ignored the picture completely.
Clint Eastwood's win for "Unforgiven" in 1992 was the crowning achievement for an actor of limited ability who over the years had grown substantially as an artist. Eastwood had long been developing an interesting career as a director, having helmed his first picture in 1971, and often did trade-offs with the studios, one for them (some silly actioner which made millions) and one for him (a personal project he would direct). As he was most frugal with funds, his films came in under budget and on time, earning the director enormous freedom as a director. These days no one thinks of him as the squinty-eyed tough guy Harry Callahan, but rather as the two-time Oscar winning director.
Gibson's win for the Scottish history epic "Braveheart" shocked the industry because Ron Howard had already won the Directors Guild Award for "Apollo 13," the year's best film (in my opinion), and still the finest effort of Howard's career, despite his Oscar win a few years later for the incredibly over appreciated "A Beautiful Mind." A former actor who had given up the art to direct, Howard is no longer considered an actor, and sadly was not even nominated by the Academy for "Apollo 13," allowing Gibson to move in for the win.
More and more actors are stepping behind the camera, and some of them, like Beatty, Eastwood, Redford, Costner, Streisand, Paul Newman, Sean Penn, George Clooney, and Denzel Washington are very good at it — others not so much.
Al Pacino directed the documentary "Looking for Richard," which fed his ego, followed by the dreadful "Chinese Coffee," making clear the case that he should never again step behind the camera. The great Jack Nicholson has directed some terrible films, "Goin' South" being the worst. Dustin Hoffman, meanwhile, fired himself from directing "Straight Time," wise enough to understand he was better in front of the camera. Tom Hanks hopefully will not direct again, nor will Tom Green, but who can predict which could become a better filmmaker?
The Sean Penn snub this year was unforgivable; "Into the Wild," a superb film, brilliantly directed with a career-altering performance from Emile Hirsch, was almost cruelly ignored by the Academy. Though I loved "Juno," it was not among the best five films of the year was it? In all honesty I was stunned when Penn was yet again ignored by the Academy, which considering the magnitude of his film is a terrible slap in the face.
Often after honoring an actor with an Oscar for direction, the Academy forever forgets that they direct other films, with only Eastwood and Redford receiving second and, in Eastwood's case, third and fourth nominations. Redford was nominated for "Quiz Show," while Eastwood, now among the three best directors in the business, has since been cited for "Mystic River" and "Letters from Iwo Jima." Though Warren Beatty has directed here and there in the wake of "Reds," he was nonetheless snubbed for his scathing political satire "Bulworth," for which he deserved nods for actor and director. Attenborough mercifully has never been singled out by the Academy again, while Costner has also gone unnoticed for his post-Best Director work.
So the question is: why? Why does the Academy fall deeply in love with an actor-turned-director and honor them, ignoring a greater directorial achievement in the process. Someone out there please help me understand, because though it is easy to say, "It's the Academy," there must be a deeper answer. The people who vote are movie people who must know the difference between great and good, or often good and bad.