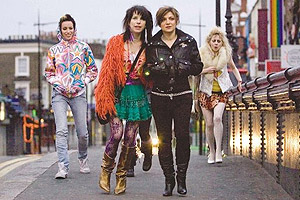 The common line in the British press so far on "Happy-Go-Lucky," Mike Leigh's alternately fascinating and frustrating new film, is that it's a departure for him — an exuberant comic revelation following the spare, precise despair of "All or Nothing" and "Vera Drake." How quickly we forget.
Only nine years ago, Leigh gave us the similarly punctuated "Topsy-Turvy," a period romp that in some moments rivalled "Shakespeare in Love" for broad music-hall humour. Even his biggest crossover hit, the 1996 Best Picture Oscar nominee "Secrets & Lies," had a much more explicit comic tone than many seem to recall.
However, the most accurate precedents for "Happy-Go-Lucky" date farther back still: the film is not so much a new direction for Leigh as a throwback to the gentle character-oriented comedy and wispy, free-form narrative of his breakthrough features "High Hopes" and "Life is Sweet." It's a welcome move. As immaculately crafted and performed as "Vera Drake" was, it didn't, for me, play to Leigh's strengths as a writer: his witty ear for vernacular language and his preoccupation with the tensions and absurdities inherent in everyday conversation.
These qualities re-emerge with a vengeance in "Happy-Go-Lucky," a film bursting with rapid-fire banter, cathartic outbursts and occasionally didactic speechifying. The inimitably fluid language of London's multicultural, multi-class population is woven through the film's every exchange; if Leigh could snag a Best Original Screenplay nomination for a film as comparatively underwritten as "Vera Drake," it's difficult to see him getting passed over for this.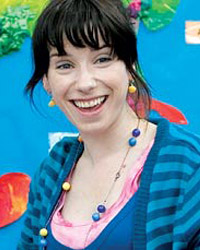 The verbal pyrotechnics are sorely needed, mind you, for this is a film built on as slender a narrative thread as the auteur has ever created. Leigh regular Sally Hawkins plays Poppy, an indefatigably cheerful elementary school teacher living with her best friend in the quiet suburbs of North London. (Geographically, the film is situated squarely in Nick Hornby land, and in some ways, it's not hard to imagine the benignly attractive, issue-free Poppy as a Hornby creation.)
The theft of Poppy's bicycle spurs her to take driving lessons with instructor Scott, a rage-fuelled, socially awkward misanthrope who neatly serves as the diagrammatic opposite of Poppy's character. Their weekly lessons serve as a loose calendar around which the film visits other facets of Poppy's daily life: flamenco classes with a quirky Spanish teacher, a visit to her heavily pregnant, highly-strung sister Helen, kindly counseling a possibly abused child in her class and so on.
None of these threads really reveal, or impact upon, each other; the film is less a unified story than it is a loose series of highly entertaining, occasionally affecting vignettes. Despite the entire film being built around her, Poppy has no problem or desire that the narrative is required to resolve; she ends the film no different a woman than she began. Leigh himself admits as much in his interview with Dave Calhoun in May's issue of Sight and Sound: "Rather than a causal narrative, here I'm more concerned with a cumulative narrative that evokes an atmosphere and evokes Poppy's spirit."
It's a risky storytelling tactic, one that hinges entirely on Poppy being a sufficiently engaging presence to hold our attention through two hours (thirty minutes of which, frankly, could have been shed) of nearly incident-free narrative. Happily, and indeed luckily, she does, thanks to Sally Hawkins' incandescent, highly resourceful performance. With her endlessly mobile face and a guileless cheek that recall a young Lynn Redgrave, Hawkins makes perfect sense out of a character that could have seemed awfully one-note on paper.
Poppy may be permanently sunny, but Hawkins subtly sheds the character's more pronounced tics and affectations as the film progresses, gradually revealing a surprisingly steely self-assurance beneath a kooky artifice. It's a deft act of performance-in-reverse, stripping away the character rather than building upon it, and it's arguably the showiest, most expansive turn we've yet seen in a Mike Leigh film. Her Best Actress award at February's Berlin festival was as deserved as it was expected. I suspect, and hope, that it is just the first of several accolades for an extraordinary effort.
Like "Vera Drake," "Happy-Go-Lucky" differs from Leigh's previous work in that it is essentially a one-woman showcase, despite his insistence in the aforementioned interview that it's still an ensemble piece. The supporting cast is uniformly stellar, but their roles are largely under-drawn. Scott is potentially the most intriguing person in the film — a combustible blend of emotional inarticulacy and vocal prejudice — but because we only ever see him in the context of his driving lessons with Poppy, we never learn what makes him tick. When he eventually breaks it makes for an astonishing climactic scene — one that deserves to earn actor Eddie Marsan supporting awards attention. I fear character likeability, however, could be an issue here. But Poppy shrugs it off so effortlessly that the audience is inclined to do the same.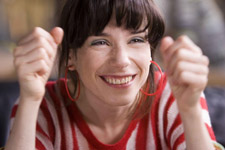 Similar problems exist elsewhere. The scenes between Poppy and Helen have a rich emotional undercurrent, as the outwardly disapproving Helen clearly envies Poppy her carefree lifestyle, but we're not with them long enough for the subtext to play out.
In such interactions, Poppy actively shies away from conflict. What's disappointing about the film is that Leigh does the same, possibly fearful of breaking his film's ingratiating spell. No tension sticks for long enough to make a discernible dramatic impression; queasily, even the subplot concerning an abuse victim in Poppy's class merely serves as a pretext to hook her up with a cute social worker.
With so little at stake in the narrative, it's slightly difficult to gauge what Leigh, who has long been one of Britain's most socially conscious filmmakers, is trying to say with this. I doubt this will bother Academy voters, who have been kind to Leigh in the past, and whom I think may respond well to the film's humanism and warmth. (The fact that the film's stateside release will only be in late September suggests to me that its distributors sense awards potential too.) There's also just enough gravitas to please voters, with occasional, jagged spots of social commentary. Scott rants about racial integration in a distinctly post-9/11 tone, while Poppy mourns the gradual erosion of nuclear family life in council-estate society.
Such moments allow a tinge of melancholy to cut through the raucous comedy, nodding towards a souring, 10 years on, of Blair's mid-90's Cool Britannia — of which the 30 year-old Poppy is clearly a product. (It can't be a coincidence that an early nightclub scene finds Poppy and her friends dancing to "Common People," Pulp's seminal 1995 ode to the middle classes.)
If such a reading seems at odds with Leigh's cheery, predominantly hopeful tone, perhaps this breezy, beguiling film does have something to say after all: that in the face of frightening social uncertainties, Poppy's solution of laughing through it all, drink in hand, may be our best bet.