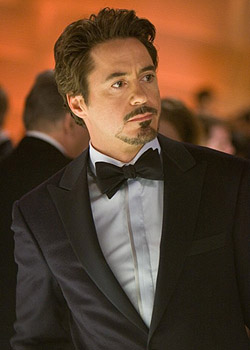 I remember when Robert Downey Jr. was cast in the role of Tony Stark for Jon Favreau's "Iron Man," my colleague David Poland made the shrewd observation that the former drug-addled wash-up was once again insurable.
Not that I like putting such language to an actor I love so much, but the truth is, he hit one of the deepest downward spirals a star of his caliber could imagine, all of it following nearly 10 years of Brat Pack fame and a heralded Oscar nominated performance in 1992.
But how about the turnaround? After the bad days of the mid-to-late 90s, and some major relapses in the first part of the new millennium, Downey finally turned the corner. A new role on one of television's hottest shows wasn't enough to get him bonded for Woody Allen's "Melinda and Melinda" (which waited another four years to hit screens, with Will Ferrell ultimately taking the role), and there were pitfalls ahead still, but the upward curve seemed on the horizon somewhere, lurking.
And here, eight years later, Downey is one day away from the release of one of the year's most anticipated, likely highest-grossing films. Insured doesn't say the half of it. Robert Downey Jr. is vindicated.
But it doesn't end with Tony Stark. The actor has two other very high profile performances landing in 2008, one of them set to be a laugh riot as he sports black face opposite Ben Stiller in "Tropic Thunder," releasing in August. To cap off the year, Downey will star in Joe Wright's "Atonement" follow-up, "The Soloist," an awards season hopeful for DreamWorks SKG and perhaps a ride to a second Oscar nomination for the actor.
I bring all this up because it is the story people should be writing, however much publicity would likely prefer to shine the light elsewhere. David Carr wrote a superlative piece that touched the finer points for The New York Times a few weeks ago, and my colleague Blake Rutherford offered his own thoughts in that light as well. But there isn't enough patting on the back going around for my taste — sue me. An actor taking this big a stumble, looking like straight-to-DVD material if ever a career could be salvaged, and then pushing back with a creative and hard-working fury such as this — it is cause for celebration.
When all is said and done, I have a feeling Robert Downey Jr. will be the toast of Hollywood in 2008. Entertainer of the year? Maybe. But it's certainly the story of the year.
Bravo. And here, here.