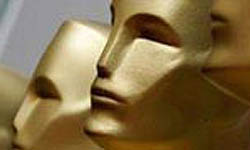 And a day and a half early at that. I like to keep you on your toes. But…a bit of a change, no?
We've cleaned things up around here and consolidated the look of In Contention to what, we hope, is a little more streamlined and user-friendly. Allow me to offer a brisk walk-through.
We've added a few new voices to the mixture who will be posting at their will, so be sure to check out our Contributors section to read up on what they bring to the table. It should make for an exciting season for those of you desperate for some sort of Tapley dilution (I know you're out there).
Gerard will still be offering up his weekly "Tech Support" column, but it will be streamlined into the main page of the site here. Ditto Brian Kinsley's "Page to Screen" articles, though I will be contributing to that weekly feature as well. All features, by the way, will be tagged and headlined accordingly (i.e., "TECH SUPPORT: Best Cinematography," "PAGE TO SCREEN: 'Body of Lies,'" etc.). No separate blogs/pages this time.
You'll also notice a backlog of a month or so of content. While I was working out the kinks here and there in setting up the new digs, I figured I would continue my various pontifications. Nothing earth-shattering, but some points of interest, perhaps, to be perused. The introductory posts from our new team members can be found sprinkled throughout as well.
Also, I'm sure you've come across the poll in the left sidebar. Not that it's a marvel of technology or anything, but it's one of those little WordPress plugins that I figured would be a nice touch, so I'll try to offer a new one up each week. Go ahead and vote on which of the perceived "frontrunners" you expect to fall flat on its face this Oscar season.
Oh, and a note on features. Hopefully the tags off to the left are self-explanatory, but if not, let me note that most posts will be logged in the "Daily" category. The "Tech Support" and "Page to Screen" fields will be designated to those columns, as will my "Off the Carpet" Oscar columns (hey, I had to generate a name for those things eventually). Anything that has pretty much nothing to do with movies or the Oscar season (and you can bet on plenty in an election year) will fall under "Et Cetera." As for "Reviews," well…you get the trend by now. Check out the first one of the new design: "Iron Man."
Additionally, since this is a surge of activity on the site unheard of in the month of April (we tend to keep things seasonal), I figured I should do a swift update of the Oscar prediction charts. Not a major upheaval, because we're still just taking stabs in the dark at this point. But some blemishes were smoothed away, I think. I'll likely not touch the charts again for some time, unless major announcements make it a necessity. They are a little easier to navigate now, by the way, in addition to being streamlined into the site, rather than being separate pages off in cyberspace. Again, trying to consolidate.
The Contenders pages have also been given a nice, organic reworking. You can find them here, also in the right sidebar, and you can sort through the titles by category or by studio, as usual.
Well…I think that about covers it. I'm sure the fellas and I will continue to blog about the season throughout the summer, especially with Cannes on the horizon, so stay tuned. I may not hold off until the season to really dig in around here, though I certainly won't be hammering out any full-length Oscar columns until the time comes.
As for dates, the first "Off the Carpet" Oscar column of the new season will land on Sept. 1, while Gerard's initial "Tech Support" entry will hit on Sept. 4. "Page to Screen" will once again provide a lead-in to the season throughout the month of August, the first one set for Aug. 4.
I'm off to London for two months in a matter of weeks, so I'll try to offer up some thoughts while abroad when I can. There's always something to talk about, but we don't want to burn ourselves out, right?
Here's to new beginnings. Enjoy the sure-to-be-kick-ass summer movie season. It's already off to a hell of a start!