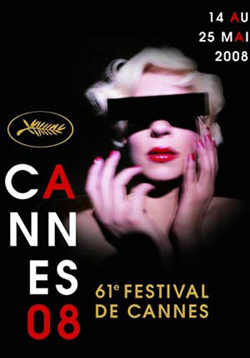 So Cannes Film Festival president Gilles Jacob has revealed the lineup for this year's competition… and it's a doozy.
Suffice to say that next month we'll have some clarity on at least three of the titles being talked up for next year's derby, all from formidable Oscar champs – Charlie Kaufman's "Synecdoche, New York," Clint Eastwood's "Changeling" and Steven Soderbergh's Che Guevara double-whammy, "The Argentine" and "Guerrilla."
Interestingly, Soderbergh's films will screen (and compete) as one four-hour entry, titled simply "Che"; I can't help wondering whether this is a road-test for an alternative distribution strategy. Seems to me that having only one release to deal with would heighten the project's awards prospects… not that Soderbergh is any stranger to competing against himself, mind you.
For Eastwood, meanwhile, this marks his fifth directorial appearance in the Cannes competition, after "Pale Rider," "Bird," "White Hunter, Black Heart" and "Mystic River." As the mixed fortunes of those titles attest, a place in the lineup is no guarantee of future awards glory. Nevertheless, the unexpected inclusion of "Changeling" on the list (a last-minute addition, like the Soderbergh films), combined with Eastwood's impeccable recent form, certainly boosts the cache of a film that, with its supernatural story elements and the maddeningly inconsistent Angelina Jolie in the lead, has me guarded about its awards potential.
However, no film this year has me more wound up in anticipation than Kaufman's helming debut, and while I repeat that there's no such thing as a sure thing, the Cannes nod is a pleasing vote of confidence for a film that features arguably the most mouthwatering cast in years (Philip Seymour Hoffman, Michelle Williams, Catherine Keener, Emily Watson, Jennifer Jason Leigh, Samantha Morton, Dianne Wiest…let's hear it for the women), as well as a sexy story hook that, like all Kaufman's work, promises either mind-bending genius or irreparable disaster. Colour me excited.
One thing for awards-watchers to bear in mind at Cannes, particularly with regard to the American entries, is not to place too much stock in the awards themselves for Oscar tea-leaves. Sure, a prize can get the ball rolling for for some contenders (last year's Best Director winner was Julian Schnabel, the previous year's, Alejandro Gonzalez Inarittu), but the Cannes jury can just as easily turn a blind eye to a future contender: "No Country for Old Men" came away empty-handed last year, while awards have been heaped on films from high-profile directors that then turn out to be Oscar non-starters, such as Gus Van Sant's "Elephant" or P.T. Anderson's "Punch-Drunk Love."
A better test, as is so often the case, can be to follow the press buzz: the critical response to "No Country" at Cannes made it clear that the pic was a serious Oscar contender, Palme d'Or or no Palme d'Or, while in 2000, "Crouching Tiger, Hidden Dragon" created a sensation at the festival despite screening out of competition.
Speaking of which, among the out of competition selections for this year's festival is Woody Allen's "Vicky Cristina Barcelona," which sees him upping sticks again — to sunny Spain this time, if you needed to ask — and working with a typically appetizing cast of Javier Bardem, Penelope Cruz, Scarlett Johansson and Patricia Clarkson. His last film to bow in this slot was the pretty terrific "Match Point" three years ago…here's hoping it proves a lucky charm for his latest effort.
Finally, to remove my Oscar-geek hat and don that of a film lover, here are a couple of the other more international titles on the Cannes competition list that personally have me excited: "Three Monkeys," from Turkey's Nuri Bilge Ceylan, whose "Uzak (Distant)" remains, for me, one of the films of the decade thus far; "Le Silence de Lorna" from Belgium's Dardenne brothers, here aiming for their third Palme d'Or in ten years; and "A Christmas Story," which reunites French auteur Arnaud Desplechin with the stars of his delightful "Kings and Queen," Catherine Deneuve and Mathieu Amalric.
Other big names on the list include Paolo Sorrentino, Walter Salles, Wim Wenders and Atom Egoyan, all looking to atone for recent missteps. I have a hunch it's gonna be a pretty vintage year. Here's hoping.