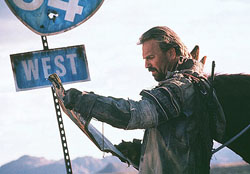 It looks like LA Times is still beating that Oscar drum for the old media sect. This week, Susan King writes up the lackluster career choices that followed a number of Academy wins throughout the years.
Here's a look:
Just because you win an Oscar doesn't mean that every subsequent film you make will be Academy Award-caliber stuff. In fact, Oscar winners inevitably make incongruous missteps in their career after they pick up an Academy Award.

Just look at Kevin Costner. After being on top of the world when he won the best director Oscar for the 1990 best film, "Dances With Wolves," he made the gargantuan turkey "Waterworld" and then directed a three-hour celluloid nightmare called "The Postman," which was DOA with critics and audiences alike. No sooner did Julia Roberts earn an Oscar for "Erin Brockovich" than critics soured on her talents in the ill-fated comedy "America's Sweethearts." And what was Oscar-winner Tommy Lee Jones thinking when he signed up for the yawn-inducing comedy "Man of the House," a film so tepid that it wasn't even screened for critics?
She goes on to pour salt on the wounds of Al Pacino, Halle Berry, Whoopi Goldberg, Robin Williams and Nicole Kidman, among others. But I'm left wondering what good a piece like this serves.
Now I'm no elitist. I understand we all have to stretch for awards content and perspective from time to time. And typically, the LA Times and its awards site, The Envelope, nail down interesting subject matter in that regard. But this piece is like one of those throwaway photo galleries that land on a weekly basis over there on a weekly basis.
Obviously this was a buttress piece for Patrick Goldstein's latest think piece (regarding the downward spiral of Robert De Niro and Al Pacino), but I don't know. It seems a little cheap and unnecessary to me.
Check out the rest of King's piece here.