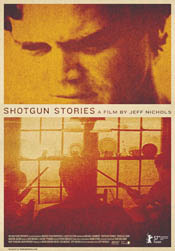 Every year the best of independent cinema convenes at a series of festivals and awards programs, most notably the Independent Spirit Awards.
In February, Jeff Nichols, a first-time filmmaker, won an ISA for his first feature length film "Shotgun Stories." The effort chronicles a deadly family feud between two sets of brothers that ensues upon the death of the father they share.
The film produced by fellow Arkansan David Gordon Green, has finally made it's way to major film markets (it screened in Little Rock, Arkansas, Mr. Nichols' hometown, although he now lives in Austin, Texas, late last year), including Los Angeles. Susan King of the Los Angeles Times described the film as a "stark, Eugene O'Neill-esque tale."
There was a rousing welcome in Mr. Nichols' home state for "Shotgun Stories." In addition to critical accolades, It managed to win multiple awards on the festival circuit too, including Grand Jury prizes at the Seattle International Film Festival and the Austin Film Festival. It opened in New York a few weeks ago, and while the film is considered a 2007 release, I didn't want my friends on the west coast to miss it.
Last month, New York Magazine's David Edelstein wrote of the film's lead actor, Michael Shannon:
His deliberateness can be lovable, even romantic, but can also signal desperation, as if his head were too cavernous for him to snatch and string together all his thoughts. He's a fascinating actor—the perfect hero for movies suffused with rage against the Creator.
The same might be said of Mr. Nichols. He's a young director to watch.