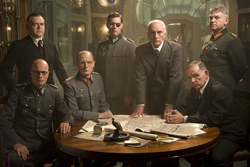 I don't disagree with a lot of what Michael Cieply has to say about the counted-out "Valkyrie" in this recent New York Times piece. Indeed, the Web is the greatest offender when it comes to instant declarations. It's a tough balance that plenty of webmasters, myself included, struggle with on a daily basis.
Indeed, there is much from every side on this story in Cieply's filing, if certain parties are grossly under-quoted or under-attributed for my tastes. (A closing note from Bryan Singer just isn't enough.) But the bottom line is, hey — maybe there's nothing to see here?
However, when you quote executives in a context such as this:
In the interim Mr. Cruise, his partners at United Artists and the "Valkyrie" filmmakers are bracing for what will likely be a nine-month fight to prove their critics wrong. "We will not be daunted," Paula Wagner, chief executive of United Artists, said last week.

During a 90-minute interview at the company's headquarters in a Century City office tower, Ms. Wagner said she and her fellow executives were intent on overcoming negative reactions that she saw as rooted in ignorance of the process of building movie production companies.

"Anybody trying to dismiss us or write us off doesn't understand the business," Ms. Wagner said. She added: "Nothing is going to stop us. We are determined to make this work."
How can one not smell blood in the water? Granted, Cieply might have bumped two or three of Wagner's clearly adamant exclamations that perhaps came at varying times in that 90minute interview, but it still comes across somewhat desperate on her part.
David Poland is busy washing his hands of all of this, making sure everyone understands that he wasn't aiming for negativity on "Valkyrie" from the outset. Of course, he's got that usual balancing act of bashing old media, digging up an old, probably unarchived Oscar call and running through the box office numbers again. But at least he sticks it to Roger Friedman, who Cieply should never have called for such a piece. It takes the story down exponential levels.
Anyway, I personally could care less about all of this and wish the press would ease off of it. And I've said it before, but what good is it doing pulling back the layers on this one?