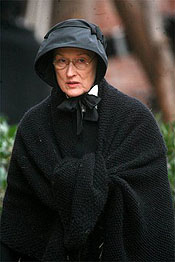 Meryl Streep is without equal as the greatest screen actress in the history of the cinema, able to slip effortlessly into character and create magic before our eyes. Meeting her makes clear her genius because the woman you will speak with bears no connection to the many characters she has portrayed over her now 30-plus years in movies; her eyes dance with mischief, but crackle with intelligence.
Revered by many as the greatest actress, some state greatest actor (period), is it not odd that Streep has just one Academy Award for Best Actress for her astounding and searing performance as the death camp survivor in "Sophie's Choice," (easily the single greatest performance ever given by a woman on film)? Yes she won in the supporting category before that, for "Kramer vs. Kramer," but consider this…Hilary Swank, a fine actress, has won the Oscar for Best Actress twice, as has Jodie Foster, yet Streep has just one, and more than 25 years ago at that. In that time she has given an array of performances that have collected prizes from the Los Angeles Film Critics Association and the New York Film Critics Circle, and despite racking up more Oscar nominations than anyone else in history, she has remained a bridesmaid for some time now.
There are complaints each year when she is nominated, the nasty ones stating that all she has to do is appear in a film to get nominated, but you know, even at half-speed, she is so much stronger than everyone else, is she not? So yes, she should have won other Oscars as a leading lady.
For "Out of Africa," for instance, anchoring that massive film on her slender shoulders, just as she carried "A Cry in the Dark," having the courage to portray a dark character, brilliantly, but in the end perhaps too well, alienating audiences. For her lovely work opposite Chris Cooper in "Adaptation," she was again nominated for supporting actress, and though Cooper won,, she did not, which makes no sense (hey it's the Oscars) as she was one half of a great jazz duo (as Cooper explained it on Oscar night) throughout the picture. How was she not nominated for "The Hours" (2002) that same year, giving a stronger performance than the eventual winner Nicole Kidman, and why oh why was she snubbed for her chilling work in "The Manchurian Candidate," her character one of the most terrifying creations in recent history??
This year Streep is appearing in several films: "Mamma Mia!" is coming this summer and "Doubt" is a strong awards contender this Christmas, but "Dirty Tricks" looks like it is in trouble. I guess we will not get to see Streep as Martha "The Mouth" Mitchell any time soon. Still, her work as a nun in "Doubt," leveling accusations of molestation at a beloved priest, may finally win her that second Academy Award for lead actress. If it happens, is there anyone else more deserving?
I am so happy I grew up in the generation in which Streep dominated the screen, surpassing the work of the greats before her — Katherine Hepburn, Bette Davis, Vivien Liegh and Jane Fonda. She is forever an American original and simply put, the single greatest actress in the history of cinema.
Early reports have been leaking out about "Doubt," and if they are any indication of what the film will look like when done, the name in the envelope next year will be Meryl Streep…again…and finally.