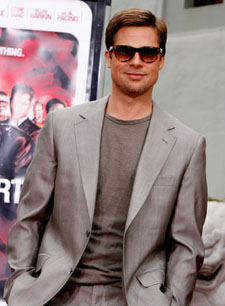 Over the course of his impressive career, Brad Pitt has not always been appreciated for the fine actor he is. This is an actor who could easily take the cheap way out and do one goofy romantic comedy or silly film after another, but who instead takes bold risks with his career, always challenging himself, and though sometimes falling flat on his face, growing as an actor.
Pitt is not the first actor to grow in maturity through the years; look at John Wayne, badly under appreciated for much of his career, though his work in "The Quiet Man", "Rio Bravo" and especially "The Searchers" was astounding. His last performance, as the gunfighter dying of cancer in "The Shootist," richly deserved Oscar attention which sadly never came.
Actors, the great ones, live to challenge themselves, never content to continue doing what they have done before, they need change, they live for challenge.
Pitt has been nominated just once, for Best Supporting Actor for his zany performance in "Twelve Monkeys," but he has certainly deserved more attention from the Academy than that. Just last year his superb performance as the doomed outlaw in "The Assassination of Jesse James by the Coward Robert Ford" should have earned him an Oscar nod, just as his work the previous year in "Babel"should have landed him in the supporting category.
In the right role, with the right director, Pitt can be among the finest actors in film. Robert Duvall certainly believes this. He once called Pitt "one of the finest young actors in movies" during an interview at the Toronto International Film Festival, making clear his belief that the young actors today are stronger than those in the 70s, a comment I thought initially to be wildly off. Here was arguably the greatest living actor telling me that the work of Jack Nicholson, Gene Hackman, Jane Fonda, Al Pacino, Dustin Hoffman and Robert De Niro had been surpassed by a new generation?
Like Johnny Depp, Pitt is fearless to make himself look unattractive on screen, giving himself over to the character and inhabiting that role. Consider his work in "Thelma & Louise" as the boy toy, and then just a year later his superb work in Robert Redford's "A River Runs Through It" as the tortured prodigal son? Queitly remarkable. Then back-to-back character pieces in "Kalifornia" for which he should have been nominated for an Academy Award and "True Romance," one of the more bizarre cameo appearances in recent memory. He took a risk in "Interview with a Vampire" that did not quite work, but triumphed in "Legends of the Fall" surpassing the film with his strong work. Opposite Morgan Freeman in "Seven" he was excellent as the hot-headed younger cop, and of course won Oscar's attention, and a Golden Globe, for "Twelve Monkeys" .
Risks were taken with accents in "Seven Years in Tibet," "The Devil's Own" and in "Meet Joe Black" all of which failed rather miserably, though as an actor, an artist, Pitt had continued to stretch himself. Failure is part of artistic growth and certainly artists learn more from failure than success. Pitt seemed to learn never to attempt an accent again, unless he was speaking gibberish, in, say, "Snatch."
His work as Tyler Durden in "Fight Club" is nothing short of miraculous, a mesmerizing performance that anchors a brilliant film, matched step-for-step by Edward Norton, together two of the most galvanizing actors on film. Sure "Troy" was dreadful, but Pitt wasn't — his scene with the great Peter O'Toole was the best moment in the film — and he proved to be a huge movie star in "Mr. and Mrs. Smith" before settling down to some character work in the aforementioned "Babel" and "The Assassination of Jesse James by the Coward Robert Ford," in my opinion the finest screen performance of his career.
And this year he is said to be brilliant in David Fincher's "The Curious Case of Benjamin Button." We will also see Pitt in the Coen Brothers' latest "Burn After Reading," though he is very much part of an ensemble. In Fincher's film he is front and center and though any buzz is merely speculation and rumour, there is a sense in the business it is Pitt's time. Hell it was his time last year and the Academy, as usual, blew it. Like Philip Seymour Hoffman for "Capote," this seems to be his year.