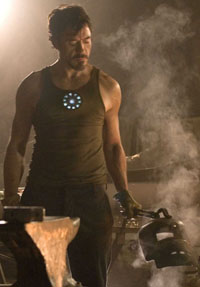 It was only a few years ago that the inimitable Robert Downey Jr. was in our living rooms as a result of repeated drug arrests. I recall several instances where I felt as if he'd never recover. Fortunately, he did, and on May 2 Mr. Downey will appear as a comic book hero in "Iron Man." Advance buzz for the film has been strong, and David Carr of The New York Times filed this profile in today's paper of the actor once labeled "the best of his generation."
"Iron Man," I suspect, will be an enjoyable film. Jeff Bridges, Gwyneth Paltrow and Terrence Howard also star. Based on what I've seen thus far, it has some technical appeal that may catch voters come awards season. It's this film – and the remaining work on Mr. Downey's schedule in 2008 – that should finally complete his remarkable comeback.
Later this summer, he stars as Kirk Lazarus in the film "Tropic Thunder" from Ben Stiller. Downey's character, a method actor who undergoes a pigment alteration, has many people curious. And this fall he appears in Joe Wright's latest film "The Soloist" opposite Jamie Foxx.
Mr. Downey has only been nominated once for an Academy Award, in 1993, for his role as Charlie Chaplin in Richard Attenborough's film "Chaplin." He did not win. Since then, he's appeared in more than thirty five films — some quite memorable ("Wonder Boys," "A Guide to Recognizing Your Saints," "Kiss Kiss Bang Bang" and "Zodiac," especially). But none of these roles caught the attention of the awards community.
Seven years ago this month, Mr. Downey was fired from his recurring guest role on "Ally McBeal." This year, he'll release three films, one of which, "The Soloist," may earn him a second Oscar nomination. And his past seems to be well behind him. As he remarked to Mr. Carr, "I'm not in that sphere of activity anymore, and I don't understand it any more than I understood 10 or 20 years ago that somehow everything was going to turn out O.K. from this lousy, exotic and dark triple chapter of my life. I swear to God I don't even really understand that planet anymore."
I'm certainly grateful for that.