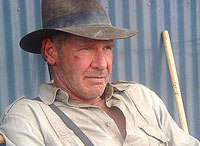 Leave it to Anne Thompson to diligently amass the rampant Indy IV speculation that has suddenly ejaculated all over the Web this week.
And what a hairy bunch of links it is, everything from her and Todd McCarthy's original break that the film would debut at Cannes, to McCarthy's round-up of Cannes films in play, Jeffrey Wells' scoop that the film would run over 140 minutes (WHY?!) to Vulture's latest blast, which rounds up all the rumors circulating what might be a below-par effort.
I remain, as I have been on this film from day one, completely and utterly terrified. I honestly, truly, 100% think that "Indiana Jones and the Kingdom of the Crystal Skull" is going to be a turd, a stinker…an afterthought. Like the aftershocks of a bad dream where you're kind of awake, kind of not, but praying the worst is behind you.
There…I've said it. Do I base this on anything other than sheer gut feeling? Nope. Although I don't think it needs to be said…again…that David Koepp is public enemy#1. My friend John Campea over at The Movie Blog continues to have hope. He tells me every time we broach the subject that, no matter the endgame, Indy IV is his #1 most anticipated film of the year and will remain that way. Fine, fair enough.
But I've anticipated a lot of shit storms in my day. At the end of the day, I don't think I could possibly cross enough fingers. Let's hope "Iron Man" is phenomenal, and therefore, softens the blow as we wait, patiently, for "The Dark Knight."