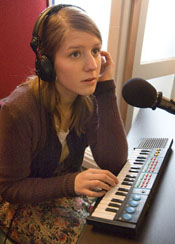 Good news for fans of the winsome 20 year-old singer/songwriter/actress — the one who, not content with showing up every other Best Song nominee in her live performance with Glen Hansard, went on to deliver the best damn acceptance speech of the night too. (Fan? Me?)
Anyway, after stating in multiple interviews that it was unlikely she would ever act again, seems like Irglova has had a change of heart. Screen International reports that she's in talks to play the female lead in Czech production "Darkness," a psychological thriller from veteran Slovak director Juraj Herz. The film, which begins shooting in the fall, centres on a man returning to his childhood home and being haunted by visions of his past.
OK, so far so familiar, and chances are it won't see the light of day in the US. Still, nice to see that someone noticed there was more substance to her performance in "Once" than a couple of (very) pretty songs. I'm sure I'm not the only one crossing my fingers for her.
(Meanwhile, those seeking to recapture the magic of Marketa and Glen's Oscar night performance would be well advised to check out their equally awesome appearance on last week's episode of "Later… with Jools Holland" on BBC Two, where even the terrific Goldfrapp paled by comparison. Bound to be on YouTube soon, folks.)