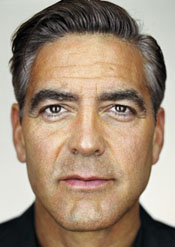 Do we really need another George Clooney profile?
I feel as though I can't turn a corner in this town without finding his still handsome but clearly aging mug plastered on this magazine or that (while simultaneously popping up in the same typical tabloid outlets to boot — but that's not his, or his publicist's, fault).
First it was a Time Magazine worship session from political writer Joel Stein that made some sense in the midst of an Oscar derby that clearly held Clooney and his film, "Michael Clayton," in the thick of things. Then, in the run-up to the release of "Leatherheads" (a film that I still haven't seen and, despite the poor critical reception, kind of want to check out), he got one of those uber-cool Esquire covers that you might expect. But the PR overhaul was starting to reach an apex, I felt.
And hitting my doorstep today? A solid week after "Leatherheads" has already landed and underwhelmed? Clooney gets what might be close to a 10,000-word profile in the pages of The New Yorker.
We get it! He's our movie star. As some outlets have proclaimed (searching for the narrative, as always), he might be "the last movie star." I know the media want to keep the fellatio going as long as possible on this cat, but can't they at least come up for air form time to time??
Who am I kidding? Everyone loves this guy. I love this guy. I just need some space, George. I need to find myself. I need to know myself…without you.