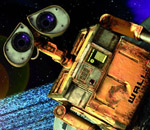 Reading through David Poland's mid-Disney presentation…thing…I was reminded of a potential Best Original Song contender that slipped my mind in recent months.
Peter Gabriel is working on a song for Disney's "Wall-E," and it could be a contender to watch as the season unfolds. Of course, Poland reports that it is a closing track (I wasn't aware of this), and since the rule shift a few years back, closing tracks don't find much head-way unless they're used in some way elsewhere in the film to creative purpose.
In any case, it'd be great to have Gabriel back in the fold. He hasn't been too prevalent in the cinema world since his superb score for Rabbit-Proof Fence" in 2002. And who can forget his unexpected work in "The Last Temptation of Christ" two decades ago? I don't know why, but he seems like a perfect fit for "Wall-E."
Chalk him up as a possibility.