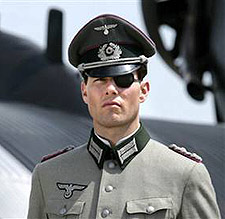 It's one thing for a report to land by a Hollywood trade that an upcoming release is getting another bump to the next quarter for unverified reasons. But come on.
I don't know if it's just me, but Slate's Kim Masters always seems to be fishing for a story.
I don't take issue often because her pieces tend to have such a brief shelf life when they aim so low. The shit storm is stirred, publicity, however bad, does its job. But to poke Tom Cruise, United Artists and Bryan Singer's "Valkyrie" with two anonymous sources and no apparent angle beyond "something thinks?" Give me a break.
Of course, there are those who eat this stuff up. Jeffrey Wells keeps linking to and pontificating on every new point, but that's what he does. Others spin their wheels in other, equally pointless directions. But at least they spin and then walk away. This is a full-blown report, and it amounts to nothing.
The bottom line is this: who cares? What's the story? And are you really prepared to justify "It must suck" as the story? Or is your aim just to take a stab at the Gray Lady seven graphs in?
This is mean-spirited gossip-mongering posing as informative journalism. And sometimes, it just pisses me off.
Here's how Masters begins her "story":
So, the release of Valkyrie, the Tom Cruise film about the failed attempt to assassinate Hitler, has been pushed back—again—from October to February 2009. The studio says that the Presidents' Day weekend represented an opportunity to cash in. But many see the move as a very bad sign, and, indeed, the buzz on the film is not good.
And the wrap up:
Certainly, Stiller has a hit coming next May in Night at the Museum 2. We hear there may be another Cruise cameo in that film (imagine—Cruise, part of Stiller's comic gang!), though Fox denies that. Meanwhile, our Valkyrie source tells us about a bit of humor on the set. It seems some folks displayed posters of old Cruise movies—Cocktail and so on—and decorated the star's face with eye patches. Apparently that bit of lightening up was not appreciated.
More unsubstantiated gossip. Read the rest.