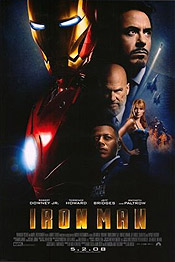 The release of "Iron Man" is breathing down our necks, if you can believe it. And with it comes the 2008 summer movie season, which looks to be an overall kick-ass time at the cineplex.
Usually I end up peppering in a few unexpected flicks in a summer list such as this, but beyond maybe David Mamet's "Redbelt" and — I don't know — "Son of Rambow," there really just isn't a lot of peripheral stuff that's catching my eye. It's all about the popcorn, baby!
Additionally, I'll be in London from the middle of May to the middle of July, so my summer movie perspective will be a little different this year.
Anyway, I haven't been this excited for the hot months since…well, last year. But we know how that turned out. 2008 goes above and beyond in the anticipation arena, however, so here's a list of the films I find myself thinking about…constantly:
1. "The Dark Knight" (July 18)
2. "Iron Man" (May 2)
3. "Indiana Jones and the Kingdom of the Crystal Skull" (May 22)
4. "The Incredible Hulk" (June 12)
5. "Pineapple Express" (August 8)
6. "WALL•E" (June 27)
7. "The Chronicles of Narnia: Prince Caspian" (May 16)
8. "Hancock" (June 2)
9. "Tropic Thunder" (August 15)
10. "The Happening" (June 13)