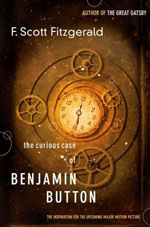 Reading through Jeffrey Wells's Hollywood Elsewhere this afternoon, I see he's spitballing about the length of the script for David Fincher's upcoming "The Curious Case of Benjamin Button," written by Eric Roth.
I made a call and got a different figure: 170 pages — with some considerable narration to boot.
Wells's point seems to be, "uh-oh, it's gonna be long." But as far as I'm concerned, a good movie can't be long enough. So, you know, so be it if "Button" clocks in close to three hours long.
A commenter at Hollywood Elsewhere, meanwhile, had this to say:
I know somebody who's seen a rouch (sic) cut (possibly just the assembly) and says it came in at 3 and a half hours.

They also said it was a REALLY good 3 and a half hours, so there you go.
Well, indeed. There you go. We'll know more soon enough, but this is one of my most anticipated efforts of the season.
Additionally, Roth is taking off from a 64-page short story, so we can bet on a lot of original material that, hopefully, adds to the emotional context of the original work. And the cover of the recently re-released short story, by the way, showcases the words "The inspiration for the upcoming motion picture," so I wonder if, at the end of the day, the script might be deemed an original work because of what will likely be a profound, if necessary, departure from F. Scott Fitzgerald's words.