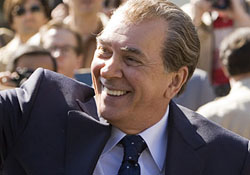 Putting together a list of makeup contenders was a little difficult for the year-in-advance column this year. I ultimately settled on "The Curious Case of Benjamin Button" (a film that will be integrating plenty of effects, makeup key among them), "The Other Boleyn Girl" (eh…I know) and "The Dark Knight" (maybe voters will be impressed by the effects used on Heath Ledger's Joker and, late in the film, Aaron Eckhart's Two-Face).
Frankly, I didn't see much else worth considering…until I came across this shot of Frank Langella in Ron Howard's "Frost/Nixon."
Sure, I figured some makeup would be used on this film to bridge the gap in appearance between Langella and Richard Nixon. Certainly more than the stage production, which didn't get too crazy, even for a theatrical performance. But I didn't expect to find Langella completely lost under the effects. He's unrecognizable in this, the closest shot of the actor in the film I think we've seen yet.
If the film turns into a sweeper, we'll certainly need to watch out for it here.