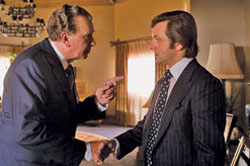 It looks like they're spinning their Oscar wheels again over at that other film awards haven of mine.
I say "again" because Justin Chang put together a very thorough year-in-advance rundown not two months ago, which was already wading further out into the waters than you'd expect from the Hollywood trade.
This week — actually flying under my radar because I haven't expected Oscar stuff out of Award Central in a while — it's Pamela McClintock, eying the release date plays of various fall contenders as an angle on which to hang yet another look ahead. I came across the link via Jeffrey Wells at Hollywood Elsewhere.
The usual suspects are rounded up: "Frost/Nixon," "Revolutionary Road," "The Curious Case of Benjamin Button," etc. But there are a couple of new pics of note.
For instance, I didn't include John Hillcoat's "The Road" (based on the Cormac McCarthy novel) on my own year-in-advance take because there was still some questiona s to whether it would be a 2008 release at the time. The Weinstein Company has it set for a Nov. 26 bow. And I also didn't spotlight the Greg Kinnear starrer "Flash of Genius," because quite frankly, it didn't come up in discussions with Universal publicity brass, so I figured why bring it up? Both films are featured by McClintock.
Anyway, the story isn't much beyond a taking stock sort of thing, but it's Oscarweb news nonetheless. Check it out.